Jahliyeh raid 'coordinated' with president Aoun, says Future official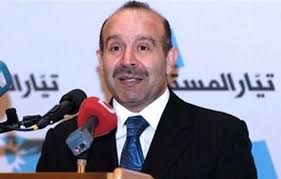 Future  Movement official , former MP Mustafa Alloush revealed  Wednesday that a controversial Internal Security Forces operation in the Chouf town of Jahliyeh had been "coordinated" with President Michel Aoun.
"The operation was coordinated with the President," Alloush said in a video interview with the IMLebanon website.
"All its details and its entire course were not withheld from the president," the ex-MP claimed.
"They (March 8 forces) know that such an operation in such a situation and in the presence of a caretaker cabinet cannot take place without an agreement with the President," Alloush went on to say.
"The president is the commander-in-chief of the armed forces," the former lawmaker pointed out.
"He could have taken punitive measures against the security officials" had the operation lacked judicial legitimacy as ex minister Wiam Wahhab is claiming, Alloush added.
Wahhab who was wanted  by the judiciary    described the Internal Security Forces operation in Jahliyeh as an "assassination" attempt against him that was allegedly requested by the businessman Alaa al-Khawaja and "implemented" by Prime Minister-designate Saad Hariri.
"There is blood now on Hariri's hands, he has become embroiled in corruption and he is no longer eligible for the premiership," Wahhab added, referring to the death of his bodyguard Mohammed Bou Diab during the ISF raid.
"During my conversations with the March 8 forces who offered me condolences, I sensed that they were pressing for the designation of someone other than Saad Hariri but the issue is in Hezbollah's hands," Wahhab a close ally of Hezbollah  added.