Netanyahu claims that Bassil's tour missed the Hezbollah precision missile plant
Israeli Prime Minister Benjamin Netanyahu on Monday accused Hezbollah of "blatantly lying to the international community with a false, propaganda tour by the means of Lebanon's foreign minister."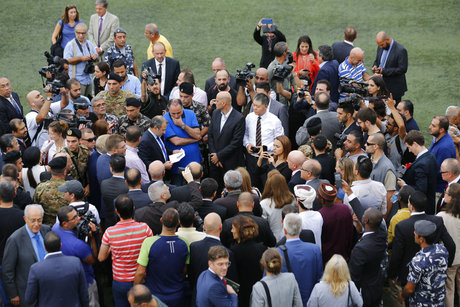 Referring to the tour of the Hezbollah-affiliated al-Ahed sport club which Bassil organized for the foreign ambassadors in Lebanon, Netanyahu said Bassil "took ambassadors to the football pitch but not the adjacent underground precision missile plant."
"The ambassadors should ask themselves why they waited three days till the tour took place," Netanyahu said on Twitter.
"It's sad the Lebanese government is sacrificing the safety of its residents in covering for Hezbollah, which has taken Lebanon hostage in its aggression against Israel," he added.
In addition to the football stadium, the tour included a nearby golf course and a warehouse in the Ouzai area. The warehouse was included in the tour at the request of one of the Lebanese reporters.
Live TV footage showed the apparently abandoned warehouse littered with plastic bags and napkins and those who entered it did not report any suspicious activity or equipment.
The tour did not go to a third site indicated by Netanyahu as a dock by the Ouzai waterfront.
Calling on the international community to prevent any Israeli attack on Lebanon, Bassil said the Lebanese government would not allow rocket facilities near the airport and that Hezbollah is "wiser" than to place them there. He said Netanyahu's claims were based on "inaccurate" estimates without any "compelling evidence."
Netanyahu comments come after Israeli army spokesman Avichai Adrai on Monday lashed out at caretaker Foreign Minister Gebran Bassil after the latter's call for a meeting with Lebanon's foreign ambassadors against the backdrop of Netanyahu's missile sites allegations.
In a tweet, Adrai addressed Bassil saying : "What do you plan to tell the ambassadors caretaker Foreign Minister Gebran Bassil? You have first to stop Hezbollah's terrorism and remove its arms near Beirut's airport. Have you inspected well whether the divine party still owns the sites we have revealed?"
AFP