U.S. Sanctions Hezbollah chief in joint action with Arab Gulf states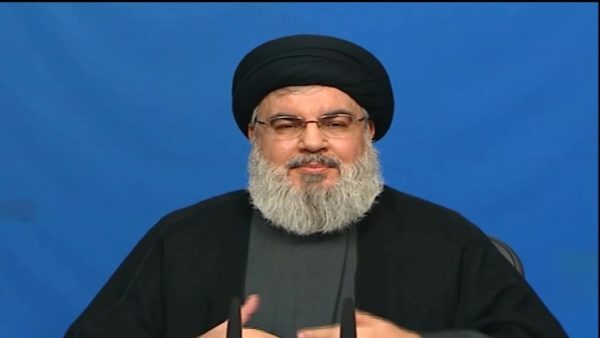 The U.S. sanctioned the leader of Hezbollah for destabilizing actions with Iran in the Middle East in a joint action with Saudi Arabia, Qatar, Bahrain and three other Gulf partners.
Hassan Nasrallah was sanctioned for acting on behalf of Hezbollah, which he has led since 1992, the Treasury Department said Wednesday. Members of the newly created Terrorist Financing and Targeting Center, which includes Oman, Kuwait and the United Arab Emirates, joined in the sanctions. Treasury previously sanctioned Nasrallah for disrupting the Middle East peace process in 1995 and for actions in Syria in 2012.
The joint action also targeted four other individuals and entities that the U.S. had previously sanctioned.
"The TFTC again demonstrated its great value to international security by disrupting Iran and Hezbollah's destabilizing influence in the region," U.S. Treasury Secretary Steven Mnuchin said in a statement. "By targeting Hezbollah's Shura Council, our nations collectively rejected the false distinction between a so-called 'Political Wing' and Hezbollah's global terrorist plotting."
Mnuchin announced the TFTC cooperation with six Gulf states in 2017. The group shares financial intelligence to target terrorist financing networks.
Hezbollah is a Shiite militia based in Lebanon, where its political arm recently expanded its influence by making gains in parliamentary elections. The group has repeatedly clashed with Israel, and more recently has intervened in the Syrian civil war, fighting on the side of President Bashar al-Assad and his allies Iran and Russia.
Treasury said that Wednesday's sanctions are a continuation of its policy to exit from the Iran nuclear deal as it aims to address Iran's "malign activities and regionally destabilizing behavior, including that of Hezbollah." Since President Donald Trump announced the policy-shift on Iran, the U.S. has sanctioned the nation's central bank governor and an Iran-linked currencyexchange network.
Hezbollah, which was founded after the Israeli invasion of Lebanon in 1982 and is classified as a terrorist organization by the U.S. and the Arab Gulf states has faced off with Israel across the decades, including in a month-long war in 2006.
Nasrallah struck a conciliatory tone after the Lebanon election, urging factions to work together to address the country's problems, and asked his supporters not to gloat.
BLOOMBERG