Macron stresses French and Saudi desire to support Lebanon after meeting Hariri, MbS
French President Emmanuel Macron invitated, Prime Minister Saad Hariri  to join him Tuesday night for talks and dinner at the Elysee Palace with visiting Saudi Crown Prince Mohammad bin Salman.
"Before the official dinner, the three leaders will briefly discuss subjects linked to stability in the Middle East, the fight against terrorism, and economic and cultural cooperation," a statement issued by president Macron's office said.
Later, speaking at a joint news conference with Prince Mohammad after the talks, Macron said France has "a common desire with Saudi Arabia to support Lebanon."
"We share with Saudi Arabia the need to confront Iran's expansion in the region," Macron added.
At the news conference Prince Mohammad lashed out at Iran, accusing it of destabilizing the region and supporting terrorism through Lebanon's Hezbollah and the Houthis in Yemen. He also said Iran, Saudi Arabia's regional archrival, shelters Al-Qaeda leaders.
"Iran is supporting terrorism through financing Hezbollah and Houthi militias and sheltering Al-Qaeda leaders," said the Saudi crown prince, whose country has led an Arab coalition in the 3-year-old war against the Iranian-backed Houthi rebels in Yemen.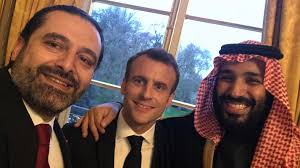 It was Hariri's second get-together with Prince Mohammad in less than 24 hours after having met with the Saudi crown prince in Paris Monday night, in the latest signal of improved Lebanese-Saudi ties, strained since Hariri's resignation crisis last year.
Lebanon's  Central News Agency reported  that in addition to personal matters, the meeting between Hariri, Prince Mohammad and the Moroccan king dealt with the need to help Lebanon confront "Iran's expansion" in the country, in what appeared to be a clear allusion to Hezbollah's growing political role in Lebanon.
Hariri flew into Paris Monday for a meeting with Prince Mohammad just days after he attended  The CEDRE  , an international conference in Paris aimed at bolstering Lebanon's battered economy and aging infrastructure.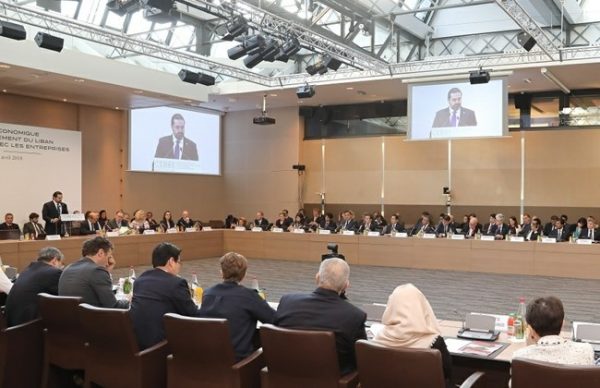 Hariri, left Paris with pledges of over $11 billion in soft loans and grants from the international community.  The conference came as the second of three international conferences hosted to support Lebanon's security, economy and humanitarian capacity in light of the impact of the Syrian conflict and resulting refugee crisis.
Hariri called for reforms  in his speech  at  the  Lebanese Diaspora Energy Conference in Paris Saturday  following the CEDRE
The LDE conferences aim at bringing together  Lebanese around the world . One was already held in Ivory Coast earlier this year. The next conference will be held on May 10 to May 12 later this year.
"Lebanon can continue as before, with outdated laws and no reforms," Hariri said, "we need to improve the labor market, implement real reforms to fight corruption and create jobs."
He said that Lebanese should threaten the candidates for the parliamentary elections with reforms. "If I don't deliver [reforms] then don't vote for me."
He expressed his thanks to the French government over  the outcome of the CEDRE  donor conference. "But the most important thing for me is reform, reform, and reform." He said