Most Syrian refugees in Lebanon want to go back when the security there improves: Red Cross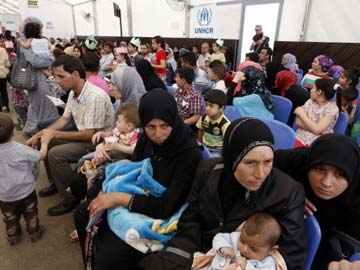 Head of the International Committee of the Red Cross (ICRC) in Lebanon Christophe Martin said Monday that the majority of Syrian refugees in Lebanon want to return home.
According to a statement by the presidential media office, Martin made the remarks during his meeting with Lebanese President Michel Aoun over the standards of ICRC to ensure the refugees' safe and dignified return.
Martin pointed that the ICRC's vision for how it would support refugees in their eventual return to Syria would be discussed with senior Lebanese officials as well as relevant international bodies and nations.
He told the president that 80 percent of the Syrian refugees in Lebanon want to go back to Syria once the security situation there improves.
The return of Syrian refugees would also benefit the Syrian people and would prove the importance of reaching a peaceful solution for the Syrian crisis, said Aoun.
"Lebanon is not responsible for the Syrian war, but suffers its consequences. The responsibility of the war falls on the countries that caused, facilitated or participated in it without anyone being held accountable for what they've done," added the president.
The United Nations Higher Commission for Refugees (UNHCR) announced last month that the number of registered Syrian refugees in Lebanon had dropped to below 1 million for the first time since 2014.
The UN agency said that the number of Syrian refugees registered in Lebanon as of the end of last November was 997,905, but according to Lebanese officials the number of unregistered refugees in Lebanon is  over a million , which makes the actual number of refugees in Lebanon around 2 million
Zinhua