Marcel Ghanem's hearing session adjourned
Speaking to reporters outside the courtroom, Harb vowed that "Lebanon would remain a free country," while expressing hope in "an independent judiciary so that all can express themselves without fear of prosecution."
Ghanem, whose supporters gathered outside the Baabda Justice Palace as the hearing got underway, was accompanied by Education Minister Marwan Hamadeh, MP Ghazi El Aridi, and LBCI owner Pierre Daher. "I watched the episode in question and saw no justification for prosecuting Ghanem," Aridi said.
The Kalam Ennas host refused to comment on the case, simply thanking his supporters for "standing with him in solidarity".
Ghanem, whose popular political talk show has been airing on LBCI for over two decades, has been embroiled in legal controversy in the wake of his Kalam El Nass episode that aired on November 16. The episode had featured a Saudi journalist, who launched a verbal attack against President Michel Aoun, Parliament Speaker Nabih Berri, Foreign Minister Gebran Bassil, and Lebanese Army Commander General Joseph Aoun, accusing them of aiding and abetting terrorism due to their ties to Hezbollah.
"I'm not supposed to defend anyone. I'm a talk show host. I don't regret what I did on air and I only managed the episode. What is my crime?" Ghanem had recently said in an interview with Al-Arabiya television, in comments about the November  show.
He was then summoned to court for questioning over the episode and later indicted on charges of obstruction of justice. On December 18, Mansour subpoenaed Ghanem after he failed to attend a court hearing. The subpoena was later dropped after Ghanem announced he would attend Thursday's court hearing.
Solidarity rally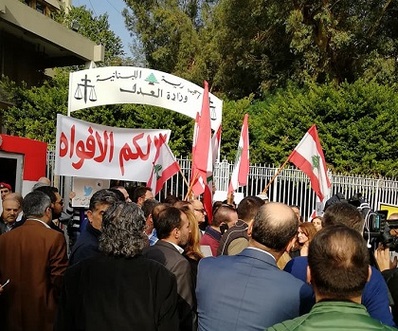 Protesters braved heavy rain to express solidarity with the prominent Prominent TV talk show host   outside the Baabda Justice Palace.
The solidarity rally was attended by Information Minister Melhem Riachi and Education Minister Marwan Hamadeh, Kataeb Party chief MP Sami Gemayel, the MPs Nadim Gemayel, MP Ghazi Aridi , MP  Nabil de Freige, ex-MP Fares Soaid, a Progressive Socialist Party delegation, and a number of political, syndical and press figures.
"There is a political plan to muzzle voices and Marcel and LBCI are being targeted to pass on the message," Harb said after the interrogation, stressing that "Lebanon will remain the country of freedom."
Ghanem for his part thanked "everyone who came to express solidarity despite the rain."
"They came to say no to repressing free speech and we will always stand by free speech," Ghanem added.
"Our battle will continue and no one will be able to intimidate us. We will never be lenient in the battle for freedoms in Lebanon and we will not let the blood of those who were martyred for freedom go in vain," Ghanem vowed.
"
ANNAHAR