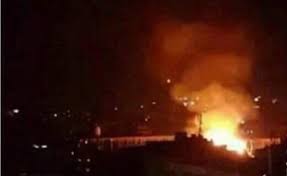 ISRAEL launched surface-to-surface missiles at a military installation believed to be an arms base outside the Syrian capital Damascus in the early hours of yesterday, according to state TV reports.
UK-based monitoring group the Syrian Observatory for Human Rights earlier reported explosions near Damascus, which it said were caused by a suspected Israeli missile attack.
The extent of the damage is not yet clear although the TV report spoke of "material losses" at the base.
Head of the Syrian Observatory, Rami Abdel Rahman, told the AFP news agency the strike destroyed an arms depot–- but his group did not know who it belonged to.
Israel has hit weapons sites before, in a bid to prevent arms being transferred to Syria's Lebanese ally Hezbollah. Arms convoys in particular have been singled out by the Israeli air force.
According to the Syrian Observatory the attack took place near El-Kiswah, a few miles south of Damascus.
Last month it was revealed claimed that Iran was building a permanent military base near the town.
A series of satellite images showed construction at the location of the alleged base.
Israeli Prime Minister Benjamin Netanyahu has previously warned that Israel would not allow Iran to establish any military presence in Syria.
12 Iranians killed
Twelve Iranian military personnel were killed in the  Israeli air strike which targeted an  Iranian base in Syria Friday night, Arabic media reported Saturday.
According to reports on Lebanon's Al-Mustaqbal TV and the Saudi-owned Al-Arabiya network, accounts on the Telegram messaging app tied to Iran's Revolutionary Guard Corps have been reporting 12 fatalities, while also reporting the names of those killed.
There has been no official confirmation of fatalities by either Syrian or Iranian authorities.
Syria's state-run news agency reported Israel fired several missiles at a military post near the Syrian capital of Damascus early on Saturday, causing damage.
SANA, the state news agency, claimed Syrian air defenses shot down two of the Israeli missiles.
Arab media reports said Israel fired missiles at a military base Iran has been building near the Syrian city of El-Kiswah, reportedly destroying an arms depot.
Some media outlets affiliated with the Assad regime and  Hezbollah initially reported that Israeli warplanes targeted an ammunition bunker belonging to the Syrian Army. But other media outlets reported that the target was a military base that Iran is building in the area
There was no immediate official Israeli comment. Israel does not, as a rule, comment on reported strikes in Syria.
Prime Minister Benjamin Netanyahu warned in a video clip published Saturday night that Israel would not tolerate an Iranian military presence in Syria.
The video was recorded Thursday, before the alleged strike, and is set to air in full on Sunday at the Brookings Institution's annual Saban Forum in Washington, DC. But the Prime Minister's Office saw fit to put out the short clip relating to Iranian presence in Syria on Saturday evening.
"Let me reiterate Israel's policy: We will not allow a regime hell-bent on the annihilation of the Jewish state to acquire nuclear weapons. We will not allow that regime to entrench itself militarily in Syria, as it seeks to do, for the express purpose of eradicating our state," said Netanyahu.
HERALD SCOTLAND/ AGENCIES