Aoun says Hariri will stay as Lebanon PM since "the crisis is behind us now"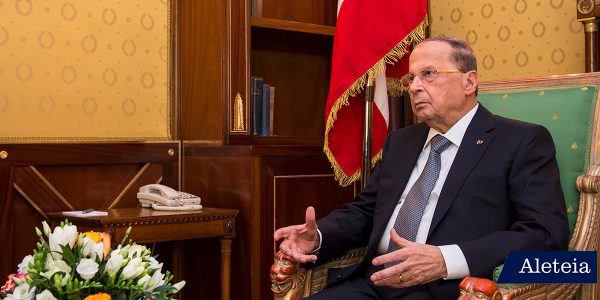 President Michel Aoun stressed on Wednesday that Saad Hariri will stay the Prime Minister of Lebanon as he stressed that the political crisis that followed his resignation will be over within days.
"Hariri will certainly stay the prime minister of Lebanon and the political crisis will be solved in a matter of days," said Aoun in talks to the Italian daily La Stampa.
"The crisis is behind us now. PM Saad Hariri will continue the path of leadership in Lebanon," he added.
Turning to Hezbollah and its role in Lebanon, the President said: "Hezbollah has fought the Islamic State terrorists inside and outside Lebanon. When the war against terror ends, Hezbollah fighters will return back home."
The daily added quoting Aoun as saying that talks between Lebanon's political parties have been concluded and that there is broad consensus.
Aoun had arrived in Rome on Wednesday for meeting the Italian President Sergio Matarella.
The two men are scheduled to hold talks at the Italian presidential palace on the Lebanese-Italian relations and means of developing them in all fields, Lebanon's National News Agency said.
Aoun will also meet Italian Prime Minister Paolo Gentiloni and a number of Italian officials, NNA added.
Hariri announced he was resigning Nov. 4, but suspended it after returning home last week, pending an agreement on dissociating Lebanon from regional conflicts
The original announcement, made from the Saudi capital of Riyadh, was widely seen as orchestrated by Saudi Arabia to pressure Lebanon's politicians into taking stronger measures to contain Hezbollah's influence. Hariri said following his resignation that he wanted to send a "positive shock" across Lebanon through his resignation, and denied that Saudi officials forced him to resign.
Hariri has demanded that Hezbollah should refrain from participating in regional conflicts, from Syria to Iraq and Bahrain and Yemen. Hezbollah denies playing a military role in Yemen but has fighters in both Iraq and Syria.
Hariri said Monday that he will resign if Hezbollah refuses to accept a new power-sharing arrangement for Lebanon, speaking as consultations got underway in Beirut between political leaders over the government's future.
The premier said Hezbollah appeared receptive to dialogue, but said he would resign if the group and Iran did not agree to rebalance Lebanon's political configuration. He did not elaborate on the new arrangement he was proposing.
AFP