Future Movement urges PM Hariri's return to Lebanon to form a new cabinet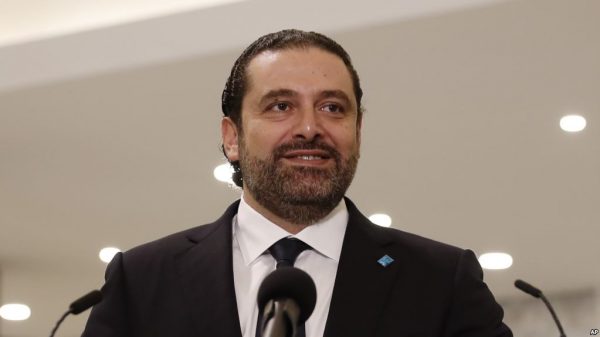 The Future Movement on Thursday called for Prime Minister Saad Hariri's return to Lebanon calling this "necessary" in order to "restore respect for Lebanon's balance at home and abroad."
"The return of the head of the Lebanese government, the national leader and the head of Future Movement Saad Hariri is necessary to restore respect for Lebanon's balance at home and abroad, in the framework of full respect for the Lebanese legitimacy represented in the Constitution and the Taef Accord and in respecting the Arab and international legitimacies," said Future Movement in a statement issued after an emergency meeting for its parliamentary bloc and political bureau.
"The bloc and the political bureau stress that they fully support PM Saad Hariri and his leadership… and that they will back anything he decides under any circumstances," Future Movement added.
Hariri resigned last Saturday a day after the adviser to the Supreme Leader of Iran, Ali AkbarVelayati met with him at his office in Grand Serai.
During the meeting he reportedly threatened Hariri to reject the strategy of the US administration against Hezbollah, or Lebanon will face chaos and Saad Hariri will meet the fate of his father who was assassinated on February 14th 2005.
In announcing his resignation from the Saudi capital Riyadh Hariri stressed that "The current circumstances are very similar to those surrounding the assassination of , his father former PM Rafik Hariri."
According to Iranian website Amadnews that has inside sources familiar with what happened at the meeting, Velayati threatened Hariri that if he did not implement what Tehran demanded in support of Hezbollah, "Lebanon would see a great mess, and Hariri would meet his father's fate".
President Michel Aoun , a close ally of Hezbollah refused to accept Hariri's resignation until he returns to Lebanon.
Lebanese Forces leader Samir Geagea said during an interview with MTV on Wednesday that he was not surprised when he heard about PM Hariri's resignation but what surprised him the most was the timing.
Geagea blamed Hezbollah's behavior for Hariri's resignation
He decried Hezbollah's military parade in Qusayr, its tour for journalists on the southern border, its announcement that tens of thousands of foreign fighters will take part in any future war with Israel, the party's alleged involvement in Kuwait's al-Abdali cell, and its negotiations with the IS group during the army's border offensive.
Siniora: "things can not go on like this"
Similarly former PM and Future Movement parliamentary bloc leader MP Fouad Siniora blamed Hezbollah's behavior for Hariri's resignation .
Following the Future Movement parliamentary bloc meeting he was quoted at his hometown Hilaliya , Sidon as saying.
"This government caused imbalance in the internal and external situations, specially with regards to Lebanon's relations with the Arab world. This is what led to the resignation of Prime Minister Hariri, and therefore there is a need for Hariri's return,"He also said Hariri should form a new government in which everyone is aware that things can not go on like this. "
"There are those who say that a number of the military activities carried out by Hezbollah in Syria, Iraq, Bahrain, Kuwait, Yemen and elsewhere, are hostile to the interests of the Arab nation and the interests of the Arabs," he said.
"Lebanon's relations with the Arab world is vital", he stressed
According to observers, over half a million Lebanese earn their living in Saudi Arabia and neighboring Arab Gulf countries . Almost every Lebanese household has at least one member earning his or her living in the Arab gulf countries . The remittances of the Lebanese expats are an important lifeline for Lebanon, because they represent over 50% of all remittances sent by all Lebanese expats worldwide . In addition Saudi Arabia and Kuwait are the main backers of the Lebanese Central bank in its effort to maintain the value of the Lebanese currency
On the other hand observers say very few Lebanese earn their living in Iran and almost no remittances are ever sent by them . Iran only supports Hezbollah financially .