Lebanon claims Hariri held in Saudi, wants foreign pressure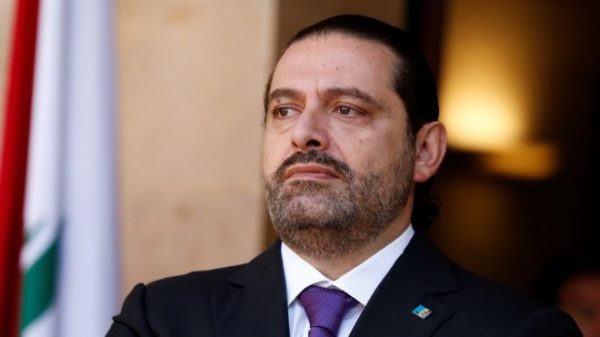 Lebanon believes Saad al-Hariri, who resigned as prime minister on Saturday while in Saudi Arabia, is being held by Riyadh, and Beirut plans to work with foreign states to secure his return, two top Lebanese government officials said on Thursday.
A third source, a senior politician close to Saudi-allied Hariri, said Saudi Arabia had ordered him to resign and put him under house arrest. A fourth source familiar with the situation said Saudi Arabia was controlling and limiting his movement.
Hariri's shock resignation, read out on television from Saudi Arabia, pitched Lebanon into a deep political crisis and pushed the country back to the forefront of a regional struggle between Saudi Arabia and Iran.
In his resignation speech, Hariri denounced Iran and the Lebanese Shi'ite group Hezbollah for sowing strife in Arab states and said he feared assassination. His father, a veteran former prime minister, was killed by a bomb in 2005.
A surprise even to his aides, Saad Hariri's exit fueled wide speculation that the Sunni Muslim politician, long an ally of Riyadh, was coerced into stepping down by Saudi Arabia as it seeks to hit back against Iran and its Lebanese ally Hezbollah.
Saudi Arabia and members of Hariri's Future Movement have denied reports that he is under house arrest.
But he has put out no statements himself to that effect, and has not denied that his movements are being restricted. He made a one-day flying visit to the United Arab Emirates, a close Saudi ally, earlier this week before returning to Saudi Arabia.
"Keeping Hariri with restricted freedom in Riyadh is an attack on Lebanese sovereignty. Our dignity is his dignity. We will work with (foreign) states to return him to Beirut," said the senior Lebanese official, speaking on condition of anonymity because the government had yet to declare this position.
Saudi Arabia says Hariri resigned because Hezbollah, which was included in Hariri's coalition government, had "hijacked" Lebanon's political system.
Hariri's office said in statement he had received the French ambassador to Saudi Arabia on Thursday. He had also met the head of the EU mission to Saudi Arabia on Wednesday, and on Tuesday the British ambassador and the U.S. charge d'affaires.
Hariri came to office last year in a political deal that made the Hezbollah-allied Christian politician Michel Aoun head of state and produced a coalition government grouping most Lebanese parties including Hezbollah.
Saudi Arabia blessed the government at the time, but has been fiercely critical of the Hariri-led government since he stepped down, saying it failed to act against Hezbollah, whose guerrilla army is far more powerful than the weak state.
Saudi Arabia had wanted Hariri to take a tougher stance toward Hezbollah, and he failed to do so, the fourth source said.
"He was functioning as if it is business as usual, so the Saudis had to accelerate the process and to force a resignation."
SAUDI ARRESTS
Hariri flew to Saudi Arabia last Friday. One of the top Lebanese government officials, speaking on condition of anonymity, said: "Lebanon is heading toward asking foreign and Arab states to put pressure on Saudi Arabia to release Prime Minister Saad al-Hariri."
The official said Hariri was still Lebanon's prime minister, echoing other Lebanese government officials who say his resignation had not been received by Aoun and his government therefore remains in place.
The resignation of Hariri, a business tycoon whose family made their fortune in Saudi Arabia, happened at the same time as a wave of arrests of Saudi princes and businessmen accused of corruption by Crown Prince Mohammed bin Salman.
The senior Lebanese politician close to Hariri said: "When he went (to Saudi Arabia) he was asked to stay there and ordered to resign. They ordered him to read his resignation statement and he has been held under house arrest since."
Two U.S. officials said the Saudis, led by Crown Prince Mohammed, had "encouraged" Hariri to leave office.
The fourth source said: "He is under controlled movement by the Saudis, limited movement."
Hezbollah's parliamentary bloc said Saudi Arabia must halt its interference in Lebanese affairs.
REUTERS