Aoun, says any Israeli military action against Lebanon will fail" because of our strength,unity"
Lebanese President Michel Aoun reported said that any Israeli military action against Lebanon would not be successful. "This is not because of international decisions, but because of our own strength and national unity," he said.
He added that "no one can rely on anyone else to defend his country, "citing Kurdistan as an example.
"All the Lebanese are prepared to fight against Israel," Aoun reportedly said , adding : "Yes, we are a small country, but we have reestablished our national unity, and part of that is the united opposition to anyone who attacks our country."
Aoun reportedly made the remarks during interviews with a Kuwaiti daily Al-Rai and a new Lebanese daily " al Ittihad".
Aoun also reportedly was quoted as saying that he did "not think there will be war with Israel, because Israel cannot win such a war."
This comes following reports of Israel's reinforcement along the Lebanese border , which is being viewed as an affront and encroaching on Prophet Ibrahim's shrine
This also comes after reports of Israeli attack on Hezbollah targets in Syria from Lebanese airspace.
Aoun is gearing up for a two-day visit to Kuwait where he is scheduled to hold talks with senior Kuwaiti officials, al-Joumhouria daily reported Friday.
Aoun flies to Kuwait on Sunday for talks with the Kuwaiti Emir Sheikh Sabah al-Ahmed al-Sabah, the Prime Minister, Speaker of the National Assembly, the Foreign Minister and the President of Kuwait Fund for Development.
He will also meet with the Lebanese community in an expanded meeting on Sunday.
While in Kuwait , Aoun is expected to face a lot of criticism of his ally, the Iranian backed Hezbollah militant group, because of its alleged interference in the internal affairs of the Arabian Gulf countries, in Syria, Iraq and Yemen.
Other Gulf countries have been very critical of Hezbollah , specially Saudi Arabia and Bahrain.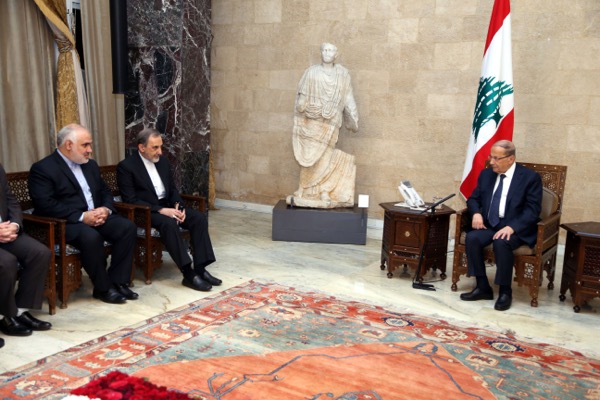 Aoun received  on Friday at the Baabda palace , an Iranian delegation led by Ayatollah Ali Khamanei's  senior adviser of  international affairs Ali Akbar Velayati.
Velayati also met on Friday with Prime Minister Saad Hariri at the Grand Serail in downtown Beirut . Following with his meeting he declared that Iran "protects Lebanon's stability and government."
"Lebanon's victory against terrorism is a victory for us all, as is the case in Syria. Terrorists are supported by the Zionists and the Americans"
He concluded his comments by saying "these victories are a victory for the axis of resistance in the region and a victory for all of us."
Lebanon is not part of the axis of resistance but Hezbollah, Iran's proxy in Lebanon prides itself as being part of the axis of resistance which also includes Iran and Syria .