8 dead, 12 injured in New York City truck attack; mayor calls it a cowardly act of terror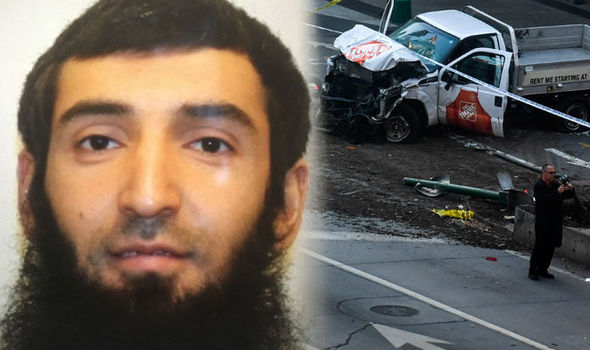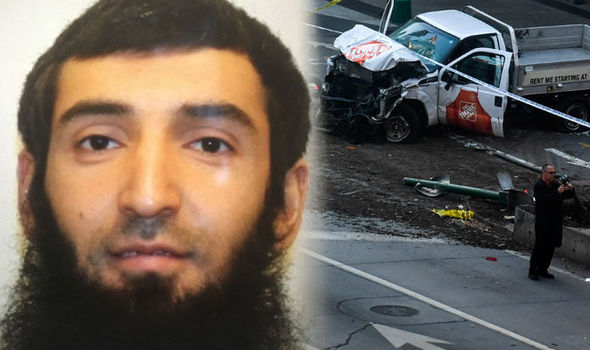 Police and witnesses say a man deliberately drove a rented truck onto a busy bicycle path near the World Trade Center in lower Manhattan, killing eight people and injuring at least 12 others, then emerged from the vehicle screaming and brandishing imitation firearms before being shot by police. The suspect was wounded and taken into custody.
"This was an act of terror, and a particularly cowardly act of terror aimed at innocent civilians," Mayor Bill de Blasio said. He called it "a very painful day in our city."
"Today there was a loss of innocent life in lower Manhattan," NYPD commissioner James O'Neill said at a Tuesday press conference.
Law enforcement sources identified the suspect to CBS News as Sayfullo Habibullaevic Saipov, a 29-year-old truck driver who has lived in Tampa, Florida, and New Jersey. He came to the U.S. in 2010 from Uzbekistan.
Sources tell CBS News' senior investigative producer Pat Milton the suspect yelled  "Allahu Akbar," Arabic for "God is great," when he exited the truck.
A federal law enforcement source said a note was found in the suspect's truck that made reference to ISIS.
Saipov doesn't appear to have an exenstive criminal background, CBS News' Jeff Pegues reports. Both the FBI and the NYPD are "digging" into Saipov's background, Pegues reports.
New York Governor Andrew Cuomo said the attack appeared to be a "lone wolf" incident with no apparent link to a wider terrorist plot. Cuomo, O'Neill and de Blasio praised the work of an officer who they said stopped the assailant before more people were hurt.
The incident occurred at West Street and Chambers Street at 3:05 p.m.
The vehicle entered the pedestrian/bike path at Houston St., a few blocks north of Chambers Street on Manhattan's west side. The truck drove down the bike path for about four blocks, striking cyclists and pedestrians before veering back into traffic lanes and striking a school bus and another vehicle.
Four people on board the school bus were injured, CBS New York reports. Officials said Tuesday they were two adults and two children.
The suspect then emerged brandishing what police called "imitation firearms." A pellet gun and a paintball gun were recovered at the scene, O'Neill said.
An officer shot him in the abdomen and he was transported to the hospital.
O'Neill said statements the suspect made and the nature of the attack led investigators to believe it was an act of terror. He did not specify what those statements were.
A harrowing scene
"A vehicle drove straight down a bicycle path heading south in Manhattan just mowing everything down," witness Greg Ahl told 1010 WINS radio. "It looks like a vehicle drove down the bicycle path and ran everything over."
An Associated Press photographer on the scene reported seeing at least two bodies lying motionless on the path beneath tarps.
Video from the scene showed several mangled bicycles along the bike path.
"I noticed along the bike path a bunch of wrecked bicycles and as I drove it was just more and more completely and totally wrecked bicycles and people mulling around to the side. I must've seen 30 or 40 bicycles like that," Ahl said.
A man who was riding in an Uber along the West Side Highway near Chambers Street says he saw several bleeding people on the ground.
Six people were pronounced dead at the scene and two others died at the hospital, officials said. At least 11 others suffered injuries that were described as serious. NewYork-Presbyterian Lower Manhattan Hospital said it was treating three patients in critical condition, three in fair condition and two in good condition.
Several of the victims were visiting from other countries. Belgium's foreign affairs minister said one Belgian was killed and three were injured, and Argentina's foreign ministry said Argentine citizens were among the dead.
The truck involved in the crash had been rented from Home Depot, although the company said it could not confirm if the suspect had rented the vehicle. The company said it is cooperating with police.
A large number of police vehicles could be seen near West Street and Chambers Street, which is near a community college, a high school and a few blocks north of the National Sept. 11 Memorial. Nearby Stuyvesant High School was on lockdown as a precaution, the station reports.
Residents were cautioned to avoid the area and to expect many emergency personnel in the area.
The NYPD tweeted that there will be increased police presence throughout the city, including at the annual Halloween parade, which draws huge crowds every year in Greenwich Village.
President Trump's response
The White House says President Trump has been briefed on the incident.
Mr. Trump tweeted his first public response: "In NYC, looks like another attack by a very sick and deranged person. Law enforcement is following this closely. NOT IN THE U.S.A.!"
He also wrote, "We must not allow ISIS to return, or enter, our country after defeating them in the Middle East and elsewhere. Enough!"
CBS