Thousands of troops sent to Kirkuk to face "Iraqi threat", says Kurdish VP Kosrat Rasul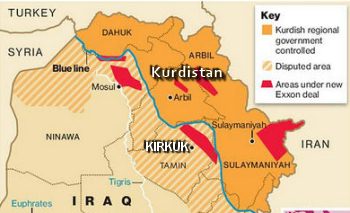 Kurdish authorities have sent thousands more troops to the oil region of Kirkuk to confront threats from Iraq's central government, the vice president of the autonomous Kurdistan region said on Friday.
Tens of thousands of Kurdish Peshmerga soldiers were already stationed in and around Kirkuk and another 6,000 have arrived since Thursday, Kosrat Rasul said, amid mounting tensions between the northern territory and Baghdad.
Iraq's government has taken a series of measures to isolate the region since the Kurds' Sept. 25 referendum on independence, including banning international flights from going there and pushing for a halt to its crude oil sales.
 Iraqi Prime Minister Haider al-Abadi has repeatedly said he has no plans to go further and actually attack the territory.
But the Kurdistan Regional Government (KRG)'s Security Council expressed alarm late on Thursday at what it said was a significant Iraqi military build-up south of Kirkuk, "including tanks, artillery, Humvees and mortars".
"These forces are approximately 3 kilometres (1.9 miles) from Peshmerga forces. Intelligence shows intentions to take over nearby oil fields, airport and military base," it said in a statement.
An Iraqi military spokesman said military movements near Kirkuk are meant to "inspect and secure" the nearby region of Hawija recaptured from Islamic State militants a week ago.
KRG authorities have repeatedly called for negotiations since the referendum, in which an overwhelming majority voted for independence. Baghdad has ruled out talks unless the KRG renounces the referendum results.
Kirkuk lies just outside the KRG autonomous territory but Peshmerga forces moved in when the Iraqi army collapsed in the face of an Islamic State onslaught in 2014, preventing the region's oil fields from falling under jihadist control.
Germany, which has traditionally good ties with both Baghdad and the KRG, called for steps to ease the tensions.
"We would like to ask them to meet those responsibilities and not to escalate the conflict," German government spokesman Steffen Seibert told reporters in Berlin.
Iraq's tough line towards the Kurds has the support of neighbours Turkey and Iran, which strongly oppose the secessionist movement given their own sizable Kurdish minorities.
President Tayyip Erdogan's spokesman said on Thursday Turkey would gradually close border crossings with northern Iraq in coordination with the central Iraqi government and Iran.
 Turkish Prime Minister Binali Yildirim is expected to visit Baghdad on Sunday to meet with Abadi.
Iraqi forces and Shi'ite Muslim paramilitaries, known as Popular Mobilisation, are deployed south and west of Kirkuk, after having recaptured the areas from Islamic State (IS).
The area around al-Qaim, near the Syrian border, is the last part of Iraq still under the control of IS, which overran a third of the country in 2014 but has been driven back by a series of Iraqi military offensives with U.S. support.
REUTERS