Lebanon calls on U.N. to renew peacekeepers' mandate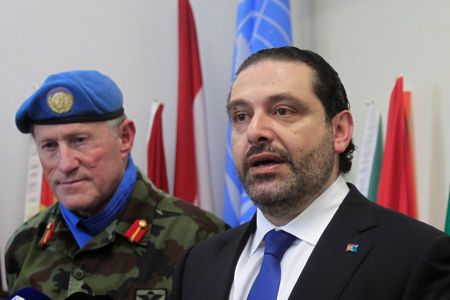 Lebanon's foreign minister said on Tuesday he supported renewing the mandate of U.N. peacekeeping forces in the country for another year, U.S. and Israeli criticism that the peacekeepers should do more to stop Hezbollah gaining arms.
"Preserving the mandate of @unifil is necessary for peace and stability, otherwise will jeopardize efforts of @UN," Foreign Minister Gebran Bassil said on Twitter.
The United Nations Interim Force in Lebanon (UNIFIL) patrols Lebanon's southern border with Israel.
Its annually renewed mandate was expanded from the original 1978 mission following a 2006 war between Israel and Lebanon's Iran-backed Hezbollah group.
This tasked UNIFIL with making sure southern Lebanon was "free of any armed personnel, assets and weapons" other than those belonging to the Lebanese government or UNIFIL.
 Washington regards Hezbollah, which supports Syrian President Bashar al-Assad and has a strong presence in south Lebanon, as a terrorist organization.
Israel has regularly complained that UNIFIL has too soft an approach towards enforcing the 2006 ceasefire and would like to see stronger action against Hezbollah military deployment that Israel alleges is taking place in violation of the ceasefire.
Lebanon also accuses Israel of violating the ceasefire by sending warplanes into its airspace. In January, Lebanon's new government affirmed its support for the security council resolution outlining UNIFIL's current mandate.
Hezbollah defends its possession of weapons as necessary to defend Lebanon, but does not say where they are.
Israel's ambassador to the U.N. Danny Danon called in an August newspaper column for UNIFIL to be able to inspect Lebanese towns more stringently and insist on unlimited access to all suspicious sites.
Israeli officials want UNIFIL and the Lebanese army to act against Hezbollah by uncovering hidden weapons and emplacements, of which they say there are thousands that Israel has mapped.
Israeli Prime Minister Benjamin Netanyahu on Monday raised the issue in a meeting with U.N. Secretary-General Antonio Guterres.
Netanyahu said the U.N. has failed to report any of the "tens of thousands of weapon smugglings into Lebanon for Hezbollah".
U.S. Ambassador to the United Nations Nikki Haley on Friday criticized UNIFIL head Irish Major General Michael Beary, accusing him of an "embarrassing lack of understanding" in not uncovering Iranian arms supply to Hezbollah.
The UN Security Council will vote on renewing the mandate this week before it expires on Thursday.
"We are not looking to change the mandate itself. We are looking to include language that clearly directs UNIFIL to do what it should have been doing for years," Haley said.
A UNIFIL spokesperson was not immediately available for comment.
REUTERS