Lebanon PM calls for a stronger army during a visit to Ras Baalbek battlefront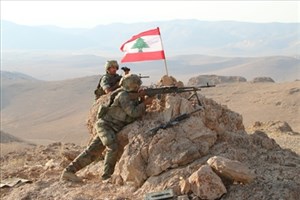 Lebanon Prime Minister Saad Hariri stressed on Wednesday the need to boost the army's capabilities so that it becomes the sole defender of Lebanon.
He  made the statement after he inspected the military units deployed in the eastern border town of Ras Baalbek  where a battle has been raging for several days between the army and the Islamic State terrorists
"This is a highly patriotic battle and we have martyrs who have fallen to protect the country and provide security and stability for the Lebanese citizens," said Hariri in Ras Baalbek, referring to a major army offensive against Islamic State militants on the eastern border.
"We want this army to get stronger because we want the state alone to perform the security missions," Hariri  added, in the presence of Army Commander General Joseph Aoun.
Hariri also stressed that the army is not coordinating militarily with any party in its operation, in reference to Hezbollah and the Syrian army.
Hariri's visit comes a day after the army announced that it was now in control of 100 out of 120 square kilometers of territory previously held by IS.
ISG hails army's performance against ISIS
Hariri's visit to the war front comes a day after  The  International Support Group (ISG) for Lebanon said in a statement Tuesday that they "commend the Lebanese Armed Forces (LAF) in their efforts to combat terrorism and to shield Lebanon's territorial integrity and security."
Referring to the army's ongoing battle  against the Islamic State group, the ISG members extended "sincere condolences for those servicemen who have lost their lives," wishing the injured a speedy recovery.
"The members of the ISG reiterate their strong and unanimous support to the LAF as the defender of Lebanon," they said in the statement.
They also called for "continued international support to further strengthen the LAF's capabilities."
The ISG comprises the U.N. and the governments of China, France, Germany, Italy, Russia, the UK and the U.S., together with the EU and the Arab League.
It was launched in September 2013 by the U.N. Secretary-General with ex-President Michel Suleiman to help "mobilize support and assistance for Lebanon's stability" and to "encourage assistance for the Lebanese Army and Syrian refugees in Lebanon and host communities" as well as "government programs and public services impacted by the Syrian crisis."