Geagea urges Hezbollah to hand over its arms to the Lebanese Army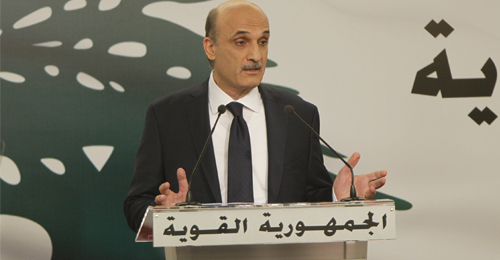 Lebanese Forces chief Samir Geagea blasted Hezbollah chief hassan Nasrallah over his declaration of victory against the militants in an interview published Sunday, calling on the party to hand over its arms to the Lebanese Army.
"What delays the establishment of an actual state is the current status of Hezbollah and its monopoly on strategic decision," Geagea told  Al-Hayat newspaper . Hezbollah's recent success in the Arsal offensive against the Islamist militants , Geagea said, is not a victory but rather "a collateral advantage" for Lebanon.
On  July 21, Hezbollah launched an assault on positions held by Jabhat Fatah al-Sham – the militant group formerly known as the Nusra Front – on the outskirts of both Arsal and the adjacent town of Flita in Syria.
The battles lasted  for a week  and the conflict was concluded with a cease-fire deal that went into effect Thursday.
"[The offensive] is an episode … in the series of the battles that [Hezbollah] has been fighting for six years in Syria, for the purpose of keeping [Syrian President] Bashar Assad in power," Geagea said.
He added that although the defeat of Jabhat Fatah al-Sham is a positive development – and a source of relief for people living on the northeastern border – Hezbollah's arms are nevertheless part of "Lebanon's essential problem."
"If Sayyed Hassan Nasrallah wanted to gift the Lebanese something that is of value, let him offer his weapons to the Lebanese Army … just like we all did," Geagea said.
After Lebanon's 1975-1990 Civil War ended, the country's various militias gave up their weapons. Hezbollah alone did not surrender its arms, due to Israeli threats on the south Lebanon border.
Geagea also cast doubt on the necessity of Hezbollah's offensive, suggesting that even if Hezbollah had not conducted the operation, "the Army was adopting another tactic as regards Nusra positions on the border with Syria."
"Why suffer human losses and go into the outskirts [of Arsal]?" he asked.
But Geagea said that his party approaches their disagreements with Hezbollah "responsibly," while rejecting the "golden tri-part equation" of "Army, people and resistance" that Hezbollah officials espouse.
"The only golden equation is people, state and Army," Geagea said, adding that Hezbollah's infiltration of the border between Lebanon and Syria, "which they say is for military and security reasons," undermines the state.
If not for these incursions, "[Lebanon] would be capable of controlling the border, and it has legitimate crossing points."