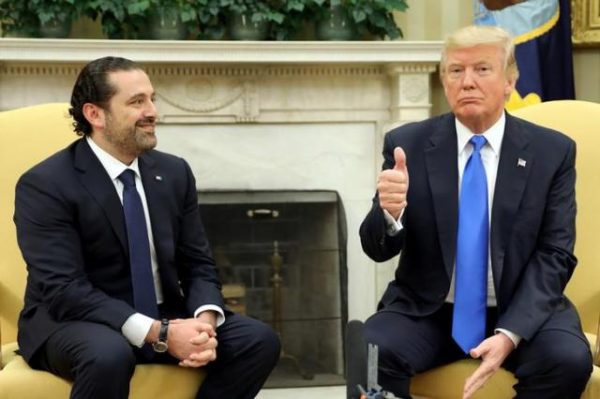 US President Donald Trump promised to aid Lebanon in its fight against the Islamic State group on Tuesday, while praising the visiting prime minister and his efforts to secure the country's borders.
Trump met with Lebanese Prime Minister Saad Hariri at the White House on Tuesday with security top of the agenda.
"America's assistance can help ensure that the Lebanese army is the only defender Lebanon needs," Trump told reporters after the meeting.
He also expressed optimism about security cooperation with Lebanon but did not specify what level of support the US would be providing.
The US, as well as the UK, has channelled hundreds of millions of dollars towards Lebanon in a bid to bolster the country against IS.
Hariri, meanwhile, expressed his hope that US military aid would continue to provide support, especially given Trump's "huge understanding" about helping Lebanon's army.
President Trump also used the opportunity to take a shot at Iran, saying that Lebanon faced an internal threat from the Tehran-backed Hezbollah group.
Hezbollah, which Trump described as a "menace," was the target of recent US legislation that seeks to sanction the group and restrict its fundraising abilities.
Lebanese officials, however, have expressed concern that the broadening of US sanctions on the group will damage the country's banking industry due to Hezbollah's influence in the sector.
"Additional bills if they are to come, we believe that it's not necessary … but if they want to issue these bills, we need to protect Lebanon from any miswording in the bill," Hariri told reporters.
The Lebanese PM said he discussed the proposed sanctions with Trump and will meet with US lawmakers later this week.
ALARABY UK