Was Alina Kabaeva Putin's mystery lady in red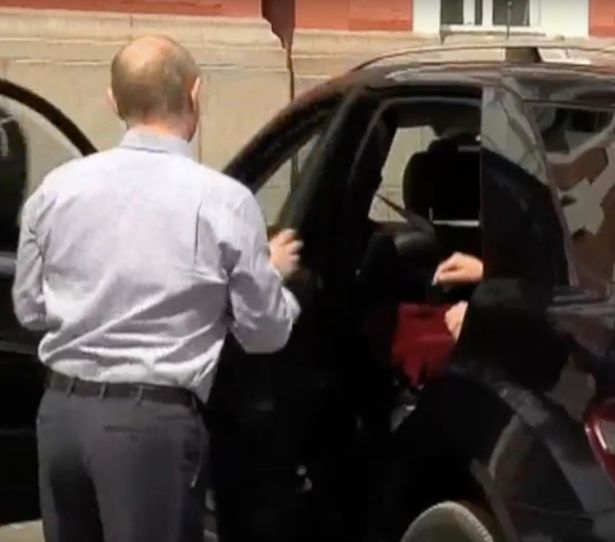 Russian President Vladimir Putin may have just revealed his new girlfriend to the world.
Eagle eyed onlookers spotted a woman with a red bag in the back seat of his car.
The Kremlin strongman – on holiday in his favourite resort in the north of Russia – had driven himself to a sacred monastery in a black Mercedes ML.
He parked and emerged from the car in his shirtsleeves.
Like a gentlemen he then opened the back door apparently for his mystery woman passenger so she could get out.
At this point – perhaps having spotted a camera – the passenger, dubbed the 'lady with the red bag', seems to gesticulate to Putin to shut the door again.
He obediently does so and is then seen walking alone into the church by now wearing a jacket.
Most state owned Russian TV channels cut out the sequence where the supposed woman – whose face is not seen – waves her fingers at the president to shut the door again.
The footage led to immediate speculation that Putin was with a new woman in his life.
But Putin's spokesman Dmitry Peskov said the mystery passenger was part of the President's security team.
Independent TV Rain said of the incident: "It looks like he or she is dressed in red. Supposedly the passenger is a woman."
In fact, the face of this "lady in red" is not seen.
Divorced from Lyudmila Putin, the former Russian first lady and mother of his two adult daughters, he is obsessively secret about his private life , and while he has hinted that he is "loved" he has refused to shed any light on any new woman in his life.
Despite denials, speculation has been rife for almost a decade that he has a relationship with Olympic gold winning rhythmic gymnast Alina Kabaeva, 34, and possibly that the pair have several children.
At the cathedral in Spaso-Preobrazhensky monastery, on the lake island Valaam in the northern Karelia region, Putin was greeted by the Russian patriarch Kirill.
He was then seen inside crossing himself and kissing an icon.
He later left with the patriarch in another Mercedes, with both men on the back seat.
The only mainstream channel to show the sequence is Zvezda, owned by the Russian defence ministry.
Others edited out this moment, perhaps suggesting censorship.
Web blogosphere quickly went into action.
"Zvezda TV showed a woman which Putin has been carefully hiding from other people's eyes," said one, Vladimir Golyshev.
"Most likely this is his new mistress, a current one, and probably not Alina Kabaeva."