Kremlin dictated terms of Putin, Trump talks. McMaster was excluded from meeting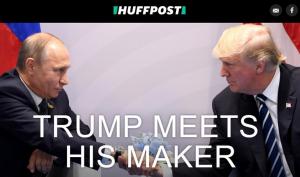 US President Donald Trump and Russian President Vladimir Putin held their first face-to-face talks on the sidelines of a G20 summit in Hamburg on Friday accompanied by just their foreign ministers.
"We look forward to a lot of very positive things happening for Russia and the United States," Trump said as he headed into the talks.
Reporters were allowed in for part of the meeting but the two men declined to offer details about what was discussed, with Trump saying only that "various things" had been covered and that the talks were "going very well".
Putin said through a translator that international issues and bilateral relations had been among the topics of conversation. The two men had been widely expected to discuss the war in Syria and recent North Korean missile tests.
Trump came under fire ahead of his meeting with Putin for not vowing to address allegations of Russian meddling in the US presidential election and for not including seasoned foreign policy staff in his first talks with the Russian leader.
Only Trump, Putin, Russian Foreign Minister Sergei Lavrov and US Secretary of State Rex Tillerson were present for the talks, which lasted two and a half hours, accompanied by two translators. Neither Tillerson nor Trump have previous foreign policy or national security experience, and the decision not to include National Security Adviser HR McMaster – a veteran security officer – at the talks raised some eyebrows.
Kremlin 'dictating the terms'
"Putin was and is a KGB officer, and KGB officers are specialists at one thing: seduction, how to persuade others to do what you want," John Herbst, a foreign policy expert at the Atlantic Council and a former US ambassador to Ukraine, told the Los Angeles Times ahead of the closely watched meeting.
Such concerns over the lack of foreign policy pros in the room may have taken on a particular urgency after Trump revealed highly classified information on the plans of the Islamic State (IS) group during a May 10 meeting with Lavrov and Russia's ambassador to the United States, Sergei Kislyak.
Michael McFaul, a former US ambassador to Moscow and former president Barack Obama's adviser on Russian affairs, expressed concern that McMaster was being left out of talks.
"Putin likes small meetings. This means WH (White House) is letting Kremlin dictate the terms of this meeting. HR [McMaster], at a minimum, should also be there," he wrote on Twitter.
McFaul also tweeted a picture of Obama's first meeting with Putin in July 2009 at Putin's Novo-Ogaryovo residence outside Moscow, noting that Obama was accompanied by national security adviser Jim Jones, undersecretary of state William Burns as well as McFaul himself.
Moreover, he said, Fiona Hill, Trump's senior director for European and Russian affairs, should have been present.
Trump softpedals on hacking
In a key speech in Warsaw on Thursday, Trump called on Russia to stop its "destabilising activities" around the globe and end its support for Syrian leader Bashar al-Assad and Iran.
"We urge Russia to cease its destabilising activities in Ukraine and elsewhere, and its support for hostile regimes – including Syria and Iran – and to instead join the community of responsible nations in our fight against common enemies and in defence of civilisation itself," he told the thousands gathered in Krasinski Square.
Trump has drawn criticism at home for failing to take measures to respond to the US intelligence community's conclusion that Russia actively sought to sway the November presidential election in Trump's favour. Instead, Trump has repeatedly cast doubt on the intelligence assessment, a scepticism that he echoed Thursday in Warsaw.
During a joint press conference with Polish President Andrzej Duda, NBC News reporter Hallie Jackson bluntly asked Trump: "Will you, once and for all – yes or no – definitively say that Russia interfered in the 2016 election?"
"I think it was Russia but I think it was probably other people and/or countries, and I see nothing wrong with that statement," Trump replied. "Nobody really knows. Nobody really knows for sure," Trump said at a news conference, before criticising Obama for not doing more to halt the Russian hacking.
His response drew immediate criticism from Democratic lawmakers as well as former director of national intelligence James Clapper, who told CNN that there was "no evidence whatsoever" to indicate that any nation besides Russia interfered in the US election.
"The president's comments today, again casting doubt on whether Russia was behind the blatant interference in our election and suggesting – his own intelligence agencies to the contrary – that nobody really knows, continue to directly undermine US interests," said California Representative Adam Schiff, the top Democrat on the House intelligence committee, which is investigating allegations of co-ordination between the Trump team and Russian interests.
Representative Ted Lieu, another California Democrat, told CNN that anyone who has viewed the classified evidence on Russian meddling "knows the president is not telling the truth when he says no one really knows if Russia engaged in the cyber-attack last year".
He added: "Russia did it. There's no rational person who looked at evidence and concluded otherwise."
Reports that the Trump administration is considering the return of Russian diplomatic compounds seized by the Obama administration last year in response to allegations of Russian election hacking have also prompted concern among US politicians on both sides of the aisle.
Republican senators Johnny Isakson and Marco Rubio as well as Democratic Senator Jeanne Shaheen wrote to Trump on Thursday to express their "deep concern" about the reports, saying that returning the compounds would merely "embolden" Putin.
Complicating relations between Trump and Putin is the ongoing scrutiny of members of Trump's campaign team as well as his White House aides for their ties to Russia.
Tillerson, who as Exxon CEO negotiated lucrative energy deals with Russian state-owned oil firms, was awarded the Order of Friendship – one of the highest honours Russia can bestow on foreign citizens – by Putin in 2013. Commerce Secretary Wilbur Ross had long-time business partnerships with Russian billionaires who were also close Putin allies. Senior adviser and son-in-law Jared Kushner reportedly sought a secret backchannel for communications with Russia.
Trump's first choice for national security adviser, Michael T. Flynn, resigned in February over reports that he had unauthorised discussions about lifting US sanctions with then Russian ambassador Kislyak.
FRANCE24