All 18 missing in German bus crash are dead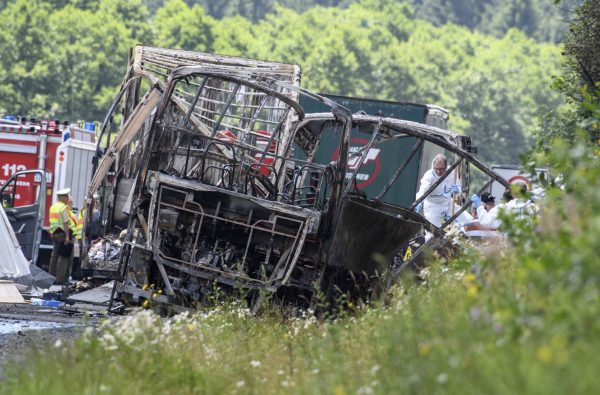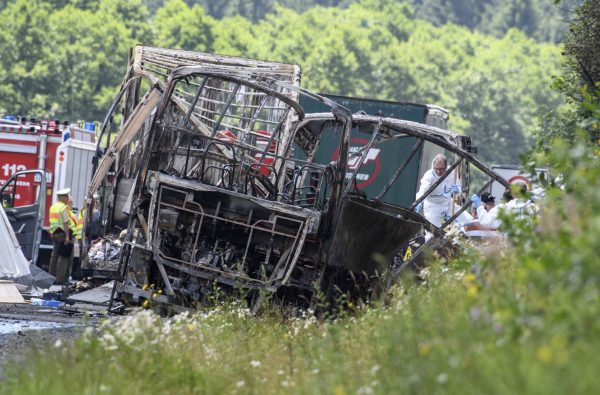 Bavarian police confirm that all 18 people missing in the bus crash on a highway in southern Germany are dead.
Another 30 people were injured when the bus carrying a group of German senior citizens crashed into a truck on the A9 highway in Bavaria early Monday and burst into flames. Two of the injured are still in life-threatening condition.
Police also tweeted that the members of the group were between 41 and 81 years old and mostly from Saxony in eastern Germany. Two drivers and 46 passengers were on the bus.
The accident took place around 7 a.m. when the bus rear-ended a trailer-truck at the end of a traffic jam on the A9 highway near Muenchberg in Bavaria.
Germany's transport minister visited the site of the bus crash
Minister Alexander Dobrindt said when firefighters arrived, the heat of the fire was so strong that they couldn't get near the bus to rescue the people locked inside, but were only able to start extinguishing the fire.
German Chancellor Angela Merkel has expressed her sadness about the bus accident
Merkel said Monday that, "our thoughts are with the families of the victims and we wish all those who were injured a speedy recovery."
The chancellor also thanked the rescue teams
ASSOCIATED PRESS