Trump endorses NATO's collective defense, after weeks of uncertainty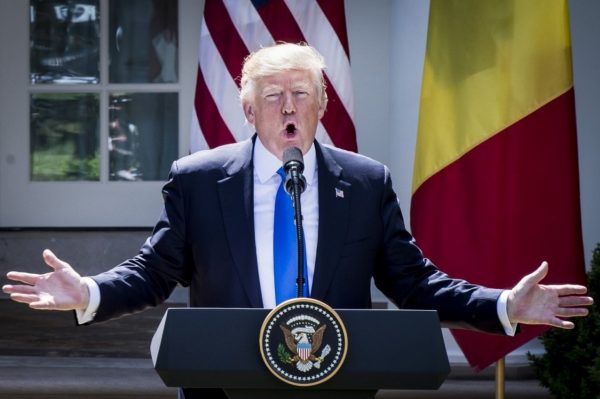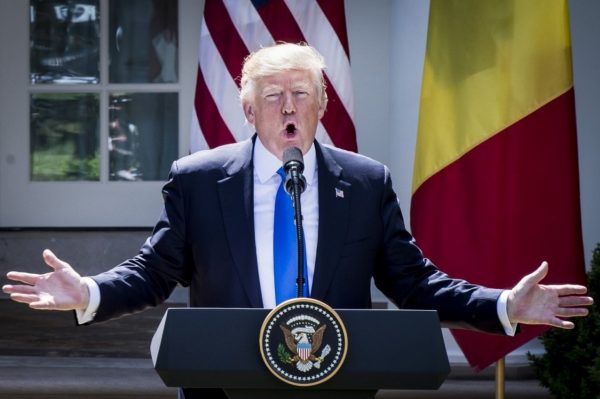 President Trump on Friday committed to the collective defense of NATO, ending a weeks-long saga over his willingness to endorse a cornerstone clause of the 28-nation alliance.
During a news conference with the president of Romania, Trump pledged that the United States is committed to NATO's Article 5, which says an attack against one member is an attack against all, triggering collective defense.
"I'm committing the United States to Article 5, and certainly we are there to protect, and certainly that's one of the reasons that I want people to make sure we have a very, very strong force by paying the kind of money necessary to have that force," Trump said. "Absolutely, I'd be committed to Article 5."
While Trump surrogates such as Secretary of State Rex Tillerson and Secretary of Defense Jim Mattis have repeatedly spoken of U.S. commitment to the article, Trump has been reluctant since calling the alliance "obsolete" while on the campaign trail.
The president has since walked back his remarks, and he was supposed to affirm U.S. fidelity to Article 5 during an appearance at NATO headquarters in Brussels last month. Instead, he removed the roughly 20-word section on the article in the hours leading up to his speech, leaving his closest aides and alliance leaders stunned, according to Politico. Trump — who spoke during the dedication of a memorial to the Sept. 11, 2001, attacks — spent most of his speech demanding that NATO countries pay their fair share of defense spending. The 9/11 attack was the only time in the alliance's history that Article 5 was invoked.
Following Trump's Article 5 omission, White House press secretary Sean Spicer played down its absence.
"Having to reaffirm something by the very nature of being here and speaking at a ceremony about it is almost laughable," Spicer said.
In the days after Trump's NATO appearance, the fallout amplified disputes over trade and climate change. German Chancellor Angela Merkel, for instance, said that Europe "really must take our fate into our own hands." French President Emmanuel Macron likened Trump to Turkish President Recep Tayyip Erdogan and Russian President Vladimir Putin.
Trump's main issue with NATO is the level of defense spending by its member states. While not a legally binding requirement, it was agreed that 2 percent of a NATO country's gross domestic product should go toward defense spending. During his speech in Brussels, Trump said that "23 of the 28 member nations are still not paying what they should be paying and what they are supposed to be paying."
Currently, only the United States, Greece, Estonia, Britain and Poland exceed the 2 percent guideline, though Lithuania has pledged to boost its spending to get above the mark in the next two years.
WASHINGTON POST