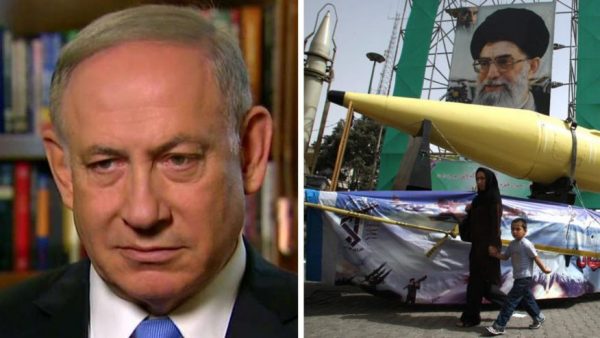 Israeli Prime Minister Benjamin Netanyahu said Friday in an exclusive Fox News interview that the world cannot allow Iran to develop a nuclear weapon.
Netanyahu theorized to Sean Hannity about what the outcome would be in a confrontation where an "Islamist terror state" has nuclear weapons. He warned of irreparable damage and said "we cannot allow that to happen."
"If we are resolute in our policies, we can make sure that doesn't happen," he said on "Hannity."
Netanyahu made the comment a day after President Trump ripped into the deal struck by Iran, the U.S. and other world powers in 2015 and said "it shouldn't have been signed." Yet he pointedly stopped sort of telegraphing whether or not the U.S. would stay in.
"They are not living up to the spirit of the agreement, I can tell you that," Trump said of the Iranians, though he did not mention any specific violations. Earlier this week, the administration certified to Congress than Iran was complying — at least technically — with the terms of the deal, clearing the way for Iran to continue enjoying sanctions relief in the near term.

Under the deal, brokered during the Obama administration, Iran agreed to roll back key aspects of its nuclear program in exchange for relief from certain economic sanctions. Critics have said it's unfathomable that the U.S. would grant sanctions relief to Tehran even as it continues testing ballistic missiles, violating human rights and supporting extremist groups elsewhere in the Middle East.
Netanyahu told Hannity that his problem with Iran is not merely that it will violate the deal. He said if Iran does not violate the deal, in 12 years, it will "walk into unimpeded enrichment of uranium."
FOX NEWS
This error message is only visible to WordPress admins
Error: No connected account.
Please go to the Instagram Feed settings page to connect an account.