Lebanese PM slams Hezbollah press tour on border with Israel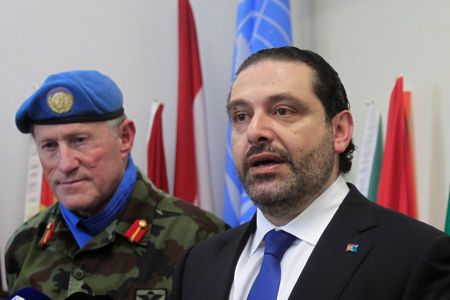 Lebanon's prime minister criticized on Friday a media tour organized by Hezbollah in south Lebanon, saying that the government of Lebanon was not informed beforehand and did not approve.
Saad Hariri spoke to journalists during a visit to south Lebanon, a day after Hezbollah organized a tour for journalists along the Lebanon-Israel border, during which armed militants from the group appeared in a U.N.-created border buffer zone meant to be free of Hezbollah presence.
The Hezbollah tour, intended to show journalists defensive measures taken by Israel along the border in the past year, was also criticized by other opponents of the Iranian-backed group as a provocation and a violation of a 2006 U.N. Security Council resolution that created the buffer zone.
Hariri, on his visit Friday, met with United Nations peacekeepers stationed in the area and renewed Lebanon's commitment to international resolutions.
"What happened yesterday is something that we, as a government, are not concerned with and do not accept," Hariri said. He struck a conciliatory tone, however, saying "there are political differences (with Hezbollah) that we put aside, and this is one of them."
"I came here to emphasize that our role as a government is to preserve Resolution 1701," Hariri said.
The Lebanese-Israeli frontier has been mostly quiet since the 2006 war, which broke out after the Iranian-backed militant group's guerrillas crossed into Israel and captured two Israeli soldiers. The ensuing conflict, during which Israeli airstrikes left south Lebanon and Hezbollah-dominated southern Beirut in ruins and Hezbollah fired thousands of rockets at Israel, killed about 1,200 Lebanese, most of them civilians, and 160 Israelis.
The Hezbollah tour on Thursday was the first since 2006 and comes amid heightened tensions along the border between the adversaries, with each side promising to inflict massive casualties on the other in any upcoming conflict. At the border Thursday, Hezbollah officials were keen to point out that Israel is the one preparing for war, showing journalists a series of fortifications made by Israeli troops across the border in the past year to guard against anticipated Hezbollah infiltration, including huge concrete blocks, barbed and electrified fences, and deep trenches carved into the valley.
They did not show journalists what, if any, preparations the militant group was making.
The Lebanese are deeply split over Hezbollah's role. The powerful Shiite group has an arsenal that rivals that of the Lebanese army and has sent thousands of its fighters to shore up Syrian President Bashar Assad's forces against predominantly Sunni rebels in the neighboring country's six-year civil war.
Hariri and others in Lebanon have repeatedly called on Hezbollah to withdraw its troops from Syria.
Insulted and tarnished Lebanon's image
Hezbollah tour was also criticized by several other leaders
Phalange party leader Sami Gemayel said the tour insulted and tarnished Lebanon's image
Hezbollah's tour that was organized for reporters "has insulted and tarnished the image of the State."
"Resolution 1701 stipulates that the region should be free of any military force other than UNIFIL and the Lebanese army", he said adding Hezbollah presence in this area is an insult to the Lebanese State's standing and a new threat to Lebanon's relationship with the international community," said Gemayel.
UNIFIL hails Hariri's visit
UNIFIL Head of Mission and Force Commander Major General Michael Beary on Friday commended Prime Minister Saad Hariri for reaffirming Lebanon's commitment to U.N. Security Council Resolution 1701 and a permanent ceasefire.
Beary was speaking during a meeting at UNIFIL's headquarters with Hariri and a high-level Lebanese delegation comprising Defense Minister Yaaqoub Sarraf, Army Commander General Joseph Aoun and a number of senior army officers and government officials.
In his briefing to the Lebanese delegation, Beary expressed his deep appreciation for the "excellent cooperation accorded by the Government of Lebanon and LAF (Lebanese Armed Forces) in the fulfillment of UNIFIL's mandate in accordance with the U.N. Security Council resolution 1701," a UNIFIL statement said.
The UNIFIL head also said that the cooperation between UNIFIL and the Lebanese army has been crucial for preserving stability along the UN-demarcated Blue Line for more than 10 years.
"UNIFIL has been here for too many years," said the UNIFIL head.
"We really need to get to a point where we are discussing permanent ceasefire and make sure that that term enters into the lexicon here and we move on to a real settlement," he added.
There has been rising speculation about a new conflict between Hizbullah and Israel, who fought a 34-day war in 2006 that ended after the approval of Resolution 1701.
That conflict killed 1,200 people in Lebanon, mostly civilians, thousands more were injured and over a million displaced . Lebanon's infrastructure suffered over $15 billion in damages . While 160 Israelis were killed , mostly soldiers.
YL with ABC