Governor Salameh's term is widely expected to be renewed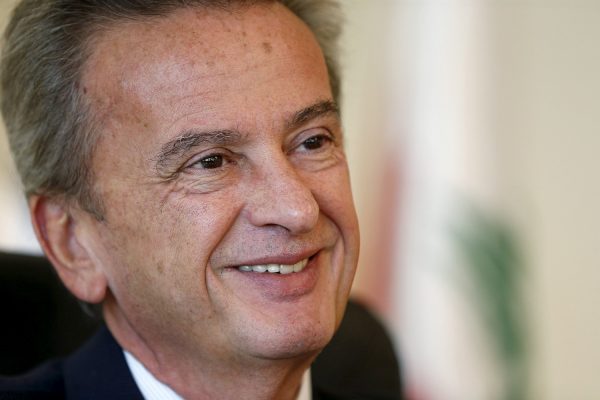 As was widely expected the majority of Lebanon's political parties have agreed to renew the term of Central Bank Governor Riad Salameh and are debating whether the renewal will be for three or six years, according to report by al-Akhbar daily on Friday.
All the top leaders including Prime Minister Saad Hariri, Speaker Nabih Berri, MP Walid Jumblatt and the key parties including Hezbollah said they support an extension of Salameh's term, sources told the daily.
Foreign Minister and Free Patriotic Movement leader Gebran Bassil has informed Salameh of the FPM's approval that he remains in his post. This means that President Michel Aoun , Bassil 's father -in-law is expected to support Salameh too.
Hariri is pressing for a quick decision, since Salameh's current term ends in July.
The extension of his term is widely expected to be on the agenda of the next government meeting.
Salameh , 66 took over his post in 1993 when slain former Prime Minister Rafik Hariri asked him to become Central Bank governor for the first time. Salameh was able to win the trust of all politicians who ruled the country despite the dramatic political changes that had taken place back then.He was reappointed for two further terms in 1999 and 2005.
The implementation of U.S. sanctions against Hezbollah threatened the collapse of the Lebanese financial system because Lebanon, like many other states, is linked to the world financial market in which the U.S. has a major role.
To save Lebanon's financial system Salameh decided to negotiate with the two sides. He traveled several times to the U.S. and held many internal meetings with the aim of reaching solutions that satisfy all sides. His solutions are based on two factors; first the U.S. does not want to destroy Lebanon and second Hezbollah cannot assume responsibility for the damage. Hence, the two sides should accept that they can't achieve all their objectives on this issue.
Salameh is one of the most respected financial experts in the world .
"Lebanese people did not feel the depth of the world financial crisis that erupted in 2008 due to the wise monetary policies of the Central Bank," one top Lebanese banker was quoted as saying .
Salameh has been controlling the monetary situation with an iron-fist and the country's lira has not witnessed any drop in it its value since 1993. When he first took up his post ,Lebanon's total reserves ( gold and hard currency) were less that $6 billion . He was able to increase the amount gradually and reached $52 billion in 2012 but has been going down since , because of the current Middle East situation and specially the Syrian civil war . Over 1.5 million Syrians fled to Lebanon since the war started in 2011 and this is having a huge impact on the Lebanese financial situation

Watch this 2014 Special report on Riad Salameh