Brazil's president says ministers under investigation may resign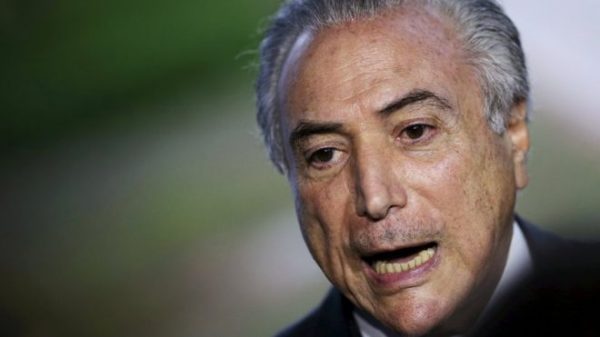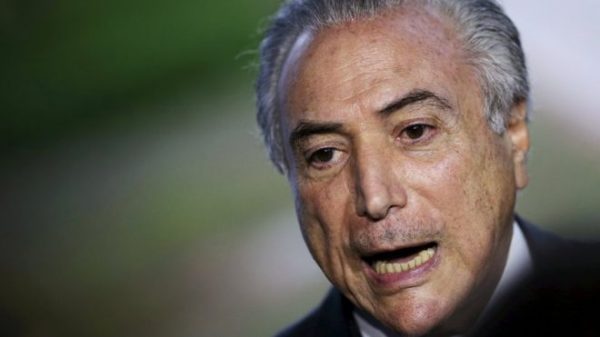 Brazilian President Michel Temer said on Monday some of his cabinet ministers are likely to resign after being placed under investigation in a massive corruption probe, as he seeks to draw a line under a scandal threatening his sweeping fiscal reforms.
Last week a Supreme Court justice opened investigations into eight ministers – nearly a third of Temer's cabinet – after they were accused of wrongdoing by executives of engineering group Odebrecht SA [ODBES.UL] in plea bargain testimonies.
The ministers under investigation include close advisers such as Temer's chief of staff Eliseu Padilha, considered key to negotiations on a landmark pension reform to rein in government spending and runaway public debt.
Temer said in a radio interview that the corruption scandal is "embarrassing" and may lead some ministers to step down.
"It is very likely that some ministers will feel uncomfortable and believe that they cannot continue," Temer said, adding that his administration "will not stop."
Temer has previously said he would suspend any ministers charged with corruption and dismiss those who are indicted in the country's biggest-ever graft scandal, which has hung over his efforts to end Brazil's worst recession in over a century.
The president himself was accused in testimony made public last week of presiding over a meeting in 2010 in which an Odebrecht executive was asked to arrange an illegal payment of $40 million to his political party.
Temer has temporary immunity from investigations regarding events before his mandate began in May 2016. He and his ministers have denied any wrongdoing.
LIKELY COMPROMISES
Lawmakers who attended a meeting with Temer on Sunday said he was sticking with his plans to push the pension overhaul through Congress by July.
With a third of the Senate and dozens of representatives coming under investigation last week, however, some observers see Congress as increasingly sensitive to popular opinion ahead of their re-election campaigns next year.
The proposed pension reform is a cornerstone of Temer's plan to restore fiscal discipline and bolster investor confidence to spark a recovery, but it remains unpopular among Brazilians, many of whom would have to work longer before retirement.
Temer's government is expected to soften some of the more stringent aspects of its initial proposal to win over lawmakers on the fence.
The president originally said he was setting out to solve the pension system's deficit over the next three or four decades, but on Monday he conceded Brazil may need another pension reform in 10 or 15 years.
In a television interview, Temer said the current proposal was expected to save the country 600 billion reais ($194 billion) over the next decade, about three quarters of the savings of his original proposal.
In one example of the compromises sought by lawmakers, Temer said the minimum period of contribution for female workers to retire with a pension may be reduced from an earlier proposal.
Finance Minister Henrique Meirelles told journalists a draft of the pension reform bill was still being discussed.
"Political leaders are all committed to approving the pension reform as quickly as possible," he said.
The testimony from Odebrecht executives has poured fuel on the corruption scandal that broke three years ago with a probe into kickbacks at state-run oil company Petrobras and has shaken the pillars of Brazil's political establishment.
The probe now includes 76 formal investigations into sitting politicians stemming from the Odebrecht testimony alone.
Supreme Court Justice Gilmar Mendes told Reuters on Monday that the cases may be split up among the court to speed up cases currently being handled by Justice Edson Fachin.
The Supreme Court has an enormous backlog of cases against federal lawmakers, ministers and governors, who can only be tried by the country's highest court, leading to concerns of impunity on major graft cases.
($1 = 3.0979 reais)
Reuters