Hariri praises atmosphere of tolerance in Lebanon as Christians, Muslims celebrate Easter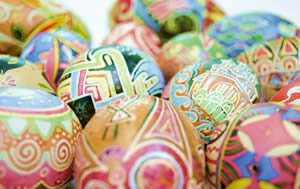 Lebanese Prime Minister Saad Hariri praised on Sunday the atmosphere of tolerance in Lebanon as the Christian community celebrates Easter.
"May Lebanon remain a symbol of moderation and a beacon for co-existence," Hariri said on Twitter
On Saturday, Hariri had met with the heads of the security agencies, hailing their role in maintaining stability in the country, amid the tragic developments in the crisis-ridden Middle East.
Internal Security Forces personnel and Lebanese Army units deployed heavily around the entrances to the churches so as to prevent any security threats to worshipers.
"We saw what happened in Egypt…we need to work hard to avert similar incidents in Lebanon," Hariri had said Saturday, referring to the April 9 Palm Sunday attacks on two Coptic churches in Egypt.
Christians and Muslims , children and adults alike, gathered after mass in the southern city of Sidon and other villages for traditional Easter egg roll competitions.
The egg dyeing and distribution to all churches in Sidon was part of an initiative by the city's National Evangelical Institute to celebrate Easter.
In the traditional neighborhoods of Sidon, members of the Ethiopian community held a recital at the entrance to the Saint Nicolas Church in the city.
Members of the Russian, Ukranian and Filipino communities in the south also took part in mass.
Preachers during Easter Sunday mass stressed the need to denounce sectarian sedition and maintain peaceful co-existence, as well as support the revival of state institutions and build a modern state.
During mass, Catholic Bishop of Sidon Elie Haddad said, "We heard some hints of a conflict that reminded us of the (1975-1990) Civil War. Indeed, not having a civil war in Lebanon is a miracle these days."
"We urge every Lebanese citizen to be alert and to refrain from being drawn into the game of war that will perish us all."
Haddad called on Palestinian "brothers" in the Ain al-Hilweh refugee camp to end any armed conflict, adding that "dialogue is the best method to solve even severe issues."
Clashes in Sidon's and Lebanon's largest Palestinian refugee camp rocked the city for several days in early April, leaving at least ten dead and some 15 wounded, before a cease-fire was reached on April 12.
Haddad also comemmorated "the martyrs of Egypt and Syria" who lost their lives to extremist attacks in the ongoing violence.