Embattled French candidate Fillon pelted with flour at campaign rally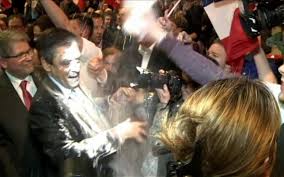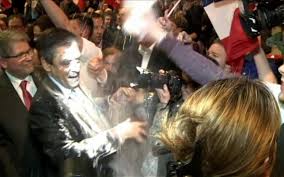 France's scandal-plagued conservative candidate François Fillon was hit in the face with flour on Thursday by a young man wearing a Fillon T-shirt as he prepared to address supporters in the eastern city of Strasbourg.
Fillon, 63, has endured a wretched campaign since he was charged over accusations he gave his wife a fake job as his parliamentary aide for which she was paid hundreds of thousands of euros.
The former prime minister was making his way to the stage in a hall in the eastern city of Strasbourg when a man in a T-shirt bearing the slogan "Students for Fillon" emptied a packet of flour on his face and down his suit.
Security guards wrestled the man to the floor and one of the guards tore off the T-shirt.
From the podium, Fillon later told the rally the incident was more evidence that he is "the target of a harassment" camapign.
"They're doing everything they can to discourage me," he said. "But, my friends, what doesn't kill you makes you stronger."

Fillon has claimed his leftwing opponents are behind the accusations against him, which first emerged in the Canard Enchainé newspaper in January.
Previously the frontrunner in the presidential race, Fillon is now languishing in third position in the polls, far behind joint frontrunners Marine Le Pen, the far-right leader, and centrist Emmanuel Macron.
(FRANCE 24 with AFP)