Iran warns Arab states against normalising relations with Israel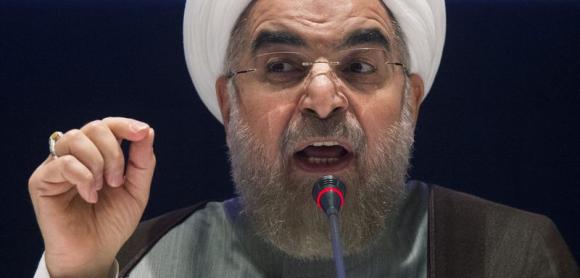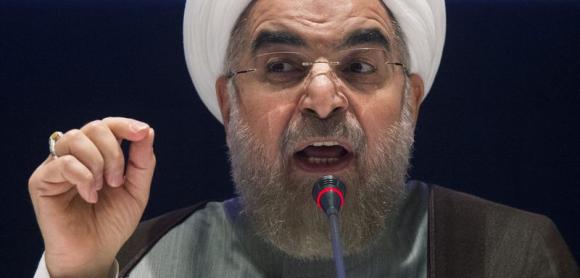 Iranian President Hassan Rouhani warned Arab countries yesterday not to be enticed by Israeli attempts to find allies in the Arab world.
"The occupying regime, in an attempt to normalise its situation, has for the first time referred to certain Arab countries as its allies against the resistance front instead of describing them as its enemies," Rouhani said at the closing session at the 6th International Conference in Support of the Palestinian Intifada in Tehran.
The Tel Aviv regime "claims that most of the Arab countries are not the enemies of Zionism or opposed to occupation anymore, but that they share the same phobia about resistance," Rouhani added.
("The resistance" or "resistance front" is Iran's term for an axis, led by Iran, that includes Hezbollah in Lebanon and Hamas in Gaza, and Syria's Assad regime.)
The Iranian president called on the countries of the region to remain vigilant in the face of Israeli plots, and said the Muslim world needs to clarify its position on the issue of Israel's efforts to normalise its ties with Arab countries
Rouhani's remarks appear to be in response to improved relations between Israel and a number of Arab states that view Iran as a regional threat and a destabilising force.
Iran  is  reportedly deeply troubled by the prospect of better Arab Israeli relations
Rouhani warned that the "Zionists" viewed conflicts in the region as a historical opportunity.
"They are trying to change their enemies within the pro-Palestine Arab and Islamic countries into their allies, by … turning them against the resistance and its main supporter, Iran."
Heavy price
Rouhani  said  that despite  the "heavy price" paid in support of the Palestinians Iran will continue to support the Palestinian cause,  the state-run FARS news agency reported on Wednesday .
"The Iranian nation has paid a heavy price for supporting the Palestinian nation and opposition to the Zionist regime's actions but it will continue its support with resolve and determination," Rouhani told told Palestinian National Council chairman Salim Zanoun  on side-lines of the sixth international conference in support of Palestinian intifada (uprising), one of a number of  events the Tehran authorities organize in solidarity with the Palestinians.
MEM/YL