London Mayor wants Trump's state visit scrapped over "cruel and shameful" policies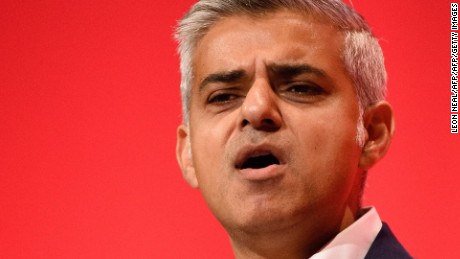 Donald Trump's "cruel and shameful" policies mean he should not be granted a state visit, London Mayor Sadiq Khan said as MPs prepared to debate the US President's forthcoming trip to the UK.
Mr Khan said the controversial tycoon's travel ban aimed at people from seven Muslim-majority countries, which has run into trouble in the US courts, and the suspension of refugee admissions were reasons not to be "rolling out the red carpet".
On Monday, MPs will debate rival petitions on the invitation extended by Theresa May to the President to make a state visit while protesters will gather outside Parliament to speak out against Mr Trump.
Mr Khan, who is a Muslim, told ITV's Peston on Sunday: "I love America, I love Americans and I believe the special relationship is a good one and one that's here to stay.
"But when you're mates with somebody, when you've got a special relationship, of course you are side-by-side with them in times of adversity but when they are wrong you call them out."
He added: "I think this ban on people from seven Muslim-majority countries, ending the refugee programme is cruel and it's shameful.
"In those circumstances we shouldn't be rolling out the red carpet."
Ms May has been criticised for offering Mr Trump a state visit too soon in his already highly controversial presidency.
Barack Obama only received an invitation after 758 days, while it took 978 days before his predecessor, George W Bush, was offered a state visit, compared with seven days for Mr Trump.
Tory MP Sir Nicholas Soames defended the invitation, even though Mr Trump's visit will be "very controversial".
He told Peston on Sunday: "I think the Prime Minister was absolutely right to do this, I think this is very important and I think President Trump will make a state visit here. It will be very controversial but it's very important that he does."
In Westminster Hall on Monday, MPs will debate a petition – signed by more than 1.85 million people calling for the visit to be stripped of the trappings of a state occasion in order to avoid causing "embarrassment" to the Queen.
They will also consider a rival petition, backed by 311,000 signatories, demanding that the visit goes ahead.
While the debate proceeds, protesters will gather for a rally in Parliament Square which organisers claim will attract more than 20,000 people.
Cabinet minister Liz Truss defended the Prime Minister's decision to seek close links with the Trump administration.
The Justice Secretary told Sophy Ridge on Sunday on Sky News: "These are our most important international allies. Of course, we should work with the US."
She added that "of course we don't agree with everything that happens in the US" but "that doesn't mean we shouldn't work together".
Ms Truss said: "The US is vital – our partnership with the US, and in fact Europe's partnership with the US is vital for our economy, it's also vital for our security.
"I think the Prime Minister's work in securing that agreement on Nato was really, really important.
"There are big issues, big threats in the world that we face at the moment and it's important that countries work together."
Independent. UK.