Syrian refugees in Lebanon slam Trump ban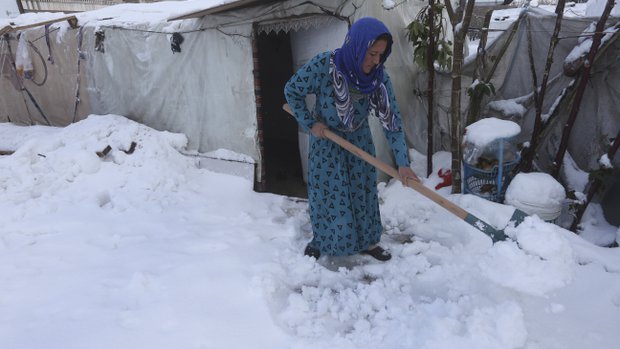 Shivering in their makeshift homes in camps in eastern Lebanon, Syrian refugees ask what they have done to deserve being barred from the United States.
On Friday, US President Donald Trump signed a sweeping new executive order to suspend refugee arrivals and impose tough controls on travellers from seven Muslim countries, including Syria.
More than one million Syrians have sought refuge in Lebanon from the devastating conflict in their homeland that has killed more than 310,000 people.
Over a third live in makeshift housing in the Bekaa valley near the Syrian border, where temperatures have dropped below freezing in recent days.
"What on earth have the Syrian people done to deserve this?" asks Abu Mahmoud al-Ghol, standing in the cold at one informal camp in the Marj area.
"And to think it's a democratic country doing it," says the 44-year-old, who fled the Syrian town of Quseir with his six children to seek refuge in Lebanon.
"We reject the decision. But what can we do about?" he says, his face appearing tired and drawn above a salt-and-pepper beard.
Nearly six years of conflict in Syria have driven more than half the population from their homes, with many fleeing abroad.
– 'Show some solidarity' -Trump's executive order cuts the number of refugees the United States plans to resettle in fiscal year 2017 — which is calculated from last October — from 110,000 to 50,000.
The United States has only let in 18,000 Syrian refugees since the war began in 2011, a former US official has said.
The United Nations on Saturday urged Trump to continue his country's "long tradition" of welcoming refugees, regardless of race, nationality or religion.
At another informal camp in the Bekaa, a Syrian mother-of-four says Trump's order is unjust.
"He has no right to take such a decision," says Ibtisam Yusef, 41, her face wrapped in a green scarf.
"What's his problem if we enter the United States legally? What have we done to him?" she asks as stands outside her tent in the Bar Elias area.
Because Lebanon has not signed the 1951 UN Refugee Convention, it treats Syrians as foreigners, not refugees.
Syrian refugees struggle to get by in Lebanon despite aid from international organisations. Those who register for residency must pledge not to work.
"He should come and see how we live in the camps," says Yusef, who fled her home in the rebel bastion of Eastern Ghouta outside Damascus.
"He and European countries should show us some solidarity."
AFP