Lebanon Re-opens First Oil & Gas Licensing Bidding Round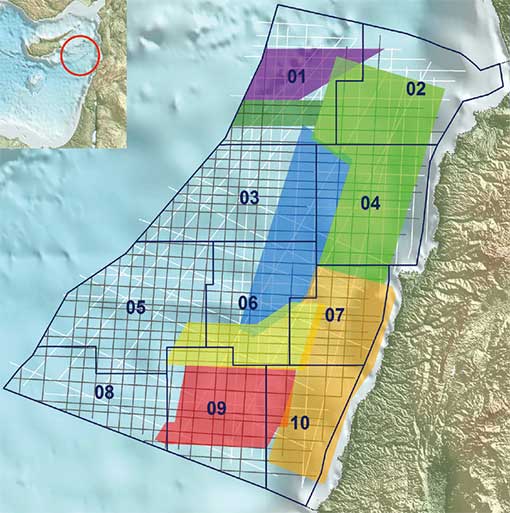 By Tsvetana Paraskova
After passing key legislation to advance its stalled oil and gas licensing tenders, Lebanon opened on Thursday five offshore blocks up for bidding, re-launching the first licensing round after three years of political impasse.
The evaluation of the bids and the signature of exploration and production agreements (EPAs) will follow as of 15 November this year, the Lebanese Petroleum Administration said in an update on the first licensing round.
In early January, the new Lebanese government adopted two landmark decrees to define oil and gas exploration blocks, paving the way to tendering offshore reserves in Lebanon's portion of the prolific Levant Basin in the Mediterranean.
Lebanon — which shares the Levant Basin with Israel, Cyprus and Syria — has been far behind Israel and Cyprus in exploring and developing its share of resources due to political impasse over the past few years, a dispute with Israel over Lebanon's southern maritime border, and the lack of the legislation dividing its waters into exploration blocks.
After Lebanon cleared the legislation hurdle, Lebanese Minister of Energy and Water, Cesar Abi Khalil, said at a news conference today that the choice of blocks up for bidding in the first round was driven by the probability of finding exploitable volumes of oil and gas, and the need to protect Lebanon's resources, Reuters reports.
Before the bidding hit a snag in 2013, a total of 12 companies had pre-qualified as operators in the first offshore licensing round, including majors Chevron, Eni, ExxonMobil, Petrobras, Shell, Statoil, and Total.
Minister Abi Khalil said today that these companies would remain qualified to bid, and a second pre-qualification round for other interested bidders would be held between February 2 and March 31. Lebanon will announce on April 13 which companies have qualified, Abi Khalil added.