Lebanon president meets King Salman to mend ties, restore $4 billion Saudi arms grant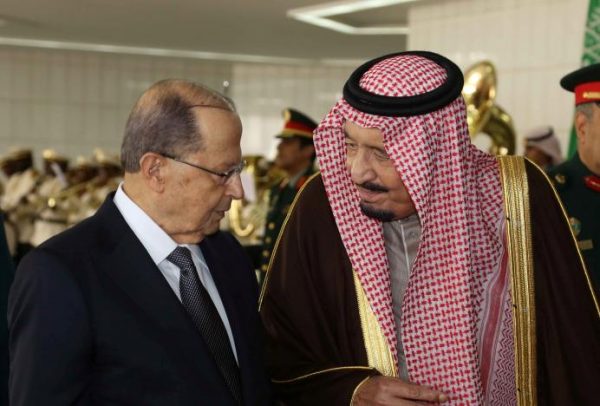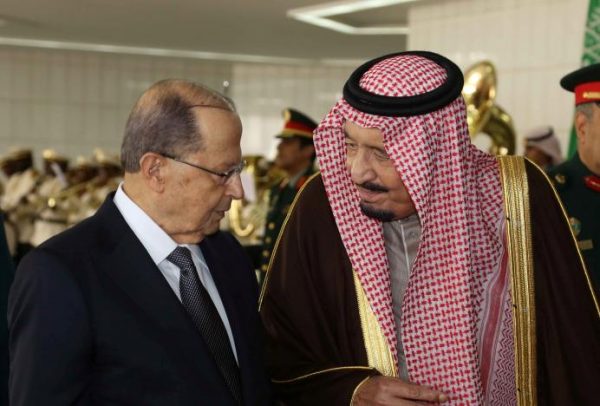 Lebanese president General Michel Aoun met with King Salman and other Saudi leaders in Riyadh on Tuesday as he sought to repair ties after a falling-out between the two countries last year.
Gen Aoun is hoping to restore a US$4 billion Saudi arms grant to Lebanon's security forces as well as normalise ties with the kingdom.
In February of last year, Riyadh suddenly cancelled the grant and downgraded ties with Lebanon, blaming Hezbollah's domination of the country. Arab Gulf States followed Saudi Arabia's lead by imposing travel bans and endorsing sanctions targeting Hezbollah at the GCC. The moves left Lebanon worried that Saudi Arabia and other Arab Gulf states would take harsher measures against Lebanon to punish the country over Hezbollah's role.
The Shiite group is active in the war in Syria, backing the forces of Syrian president Bashar Al Assad. It was labeled as a terrorist organisation by the GCC and other countries around the world and Riyadh accuses the group of participating in Yemen's war on the side of Houthi forces.
But despite the diplomatic hostility last year, relations with Lebanon have since thawed considerably.
In November, a Saudi diplomatic delegation visited Gen Aoun in Beirut, weeks after he was elected Lebanon's first president in more than two and a half years.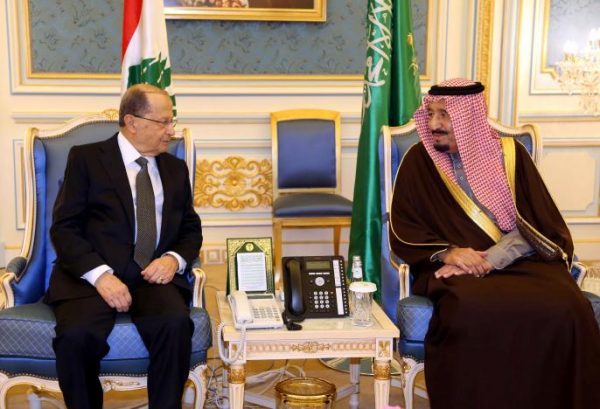 Gen Aoun's trip to Riyadh was his first journey abroad since becoming president, signalling the importance the Lebanese government attaches to strong ties with Riyadh.
"The Lebanese-Saudi relations have been affected by the events that took place in the Arab countries; there have been some ambiguities. I am here today to dissipate them, carrying with me love and friendship for the Saudi people," Gen Aoun said in an interview on Saudi Arabia's state-run Al Ekhbariya television station ahead of his meeting with the king.
Lebanese foreign minister Gebran Bassil – who accompanied Gen Aoun on the trip – met with his Saudi counterpart, foreign minister Adel Al Jubeir, on Tuesday. Following the meeting, Mr Bassil said relations between the two countries had "returned to normal".
But despite improved ties with Gen Aoun taking the presidency and the formation of a new government last month, Saudi Arabia has still not reinstated the arms grant to Lebanon's security forces.
Doing so could be difficult. On paper, Lebanon's Maronite Christian president is an ally of Hezbollah – though he was brought to power in a deal that also returned Saad Hariri, a Lebanese-Saudi businessman, to the post of prime minister.
Hezbollah's power in Lebanon remains as strong as ever and Gen Aoun's son-in-law Mr Bassil – a man largely blamed by Saudi Arabia's Lebanese allies for the deterioration of relations – remains the country's foreign minister.
Israeli accusations that armoured personnel carriers given to the Lebanese Armed Forces by the United States are ending up in Hezbollah's hands could also make the Saudis wary about funding arms for Beirut. In response to Israel's accusations, however, the US denied Hezbollah had acquired any of the vehicles and weapons donated to the Lebanese army by Washington.
Both Hezbollah and the Lebanese army have been fighting in close proximity to one another against ISIL and former Al Qaeda affiliate Jabhat Fatah Al Sham on Lebanon's border with Syria.
With Saudi Arabia cutting back spending amid lower oil prices, it is also unclear whether Riyadh is willing to invest billions of dollars in Lebanon's military and police forces at this time.
But even without the reinstatement of the arms grant, improving ties with Saudi Arabia would be good for Lebanon. Historically, the country has benefited greatly from financial investments, tourism and remittances from – and trade with – GCC countries, and negative diplomatic relations have the potential to destabilise Lebanon's economy.
Hundreds of thousands of Lebanese citizens work in GCC states, often sending remittances back home to family. And amid the height of tensions last year, there was significant worry among Lebanese that measures could be taken to limit or expel these workers.
Following Gen Aoun's meeting with the Saudi king, Lebanese prime minister Mr Hariri said, "You will witness a big openness in the relations, the return of Saudi tourists and investments to Lebanon and all that contributes to the economic advancement", according to Lebanon's state-run National News Agency.
Gen Aoun's next stop after Saudi Arabia is Qatar where he is expected to meet talks with Qatari Emir Sheikh Tamim bin Hamad al-Thani. The the Lebanese delegation will discuss making the issuance of work visas for Lebanese easier.
Aoun was also expected to discuss possible Qatari help to free nine kidnapped Lebanese army soldiers believed to be held by Islamic State militants.
NATIONAL/REUTERS