Palestinians to seek in Paris backing for statehood before Trump moves in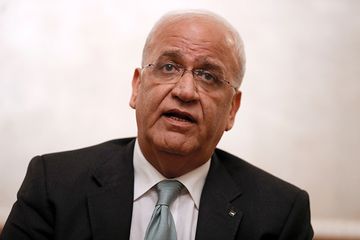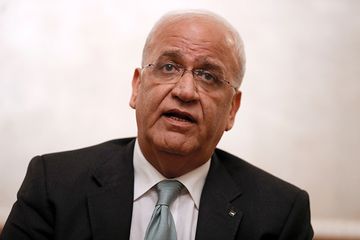 Palestinians are marshaling their diplomatic capital before U.S. President-elect Donald Trump takes office, hoping that a Jan. 15 peace conference in Paris will lead to widespread European backing for their statehood.
Last month's victory at the United Nations, where the Security Council passed a resolution condemning Israeli settlements in the West Bank and east Jerusalem, presents new opportunities for the Palestinians. They plan to accelerate cases against Israel at the International Criminal Court at The Hague, join a raft of international agencies to challenge the Jewish state and push for full recognition of Palestine as a member of the UN. They've also started lobbying Trump to reconsider his pledge to move the U.S. Embassy from Tel Aviv to Jerusalem, bolstering Israel's claim to the city.
Representatives from about 70 countries will gather in Paris, but not Israeli Prime Minister Benjamin Netanyahu, who has voiced concerns that any plan from the conference will be rushed to the Security Council for approval before Trump takes office. Netanyahu hopes for a more sympathetic ear in Washington after eight years of strained relations with President Barack Obama, while Palestinians fear the Trump White House will ignore their concerns.
"I don't think Mr. Trump wants to put us in a situation in which we feel we have nothing to lose," Saeb Erekat, secretary-general of the Palestine Liberation Organization and its chief negotiator, said in an interview in his Jericho office. If he treats both Israelis and Palestinians fairly, the president-elect could "broker the mother of all deals."
Political Muscle
Erekat, 61, is trying to flex as much political muscle as possible before Trump is inaugurated Jan. 20. He's due to attend a meeting of Palestinian political factions in Beirut this week and meet Russian Foreign Minister Sergey Lavrov in Moscow before heading to Paris.
Erekat, who led the last set of peace talks in 2014 brokered by U.S. Secretary of State John Kerry, said Trump aides rebuffed his efforts to meet during a recent trip to Washington. An adviser to Abbas, Husam Zomlot, who was in the same delegation, told Voice of Palestine radio that he did meet with a Trump associate on the trip, but he wouldn't elaborate.
Trump has publicly emphasized his support for Israel and chosen an ambassador who raises money for the West Bank settlement of Beit El. Yet the author of the 1987 best-seller "The Art of the Deal" also has said brokering a Middle East peace agreement would be the "ultimate deal."
Paris Parley
The Palestinians hope to persuade French President Francois Hollande to recognize their state before he steps down, which might lead other European countries to follow suit, said Mohammad Shtayyeh, a member of the Palestinian negotiating team. Hollande has said he won't run for re-election in balloting scheduled for May.
"We are asking the French to reload the recognition ammunition," Shtayyeh said in Ramallah, where he runs the Palestinian Economic Council for Reconstruction and Development. After the collapse of Obama administration efforts to broker direct talks with Israel, the Paris conference will advance a "paradigm shift from bilateralism to multilateralism," he said.
Palestinians will call on mosques around the Arab world to say special Friday prayers on Jan. 13 to protest the embassy move, and for churches to toll their bells in a protest on the following Sunday.
Netanyahu declined to attend the Paris conference because he rejects outside attempts to impose a solution on the parties. He also rebuffed French efforts to arrange a separate meeting in Paris with Palestinian Authority President Mahmoud Abbas.
"The decisions that are vital to Israel's interests and the future of its children, they won't be made through speeches in Washington or votes in the United Nations or conferences in Paris," Netanyahu said in a Dec. 28 statement after the UN resolutionand U.S. Secretary of State John Kerry's speech critical of Israeli settlements.
Baby Steps
The U.S. House of Representatives passed a measure early this month calling on the Security Council to repeal or amend the settlements resolution so it's "no longer one-sided and anti-Israel." Trump also has promised to move the U.S. Embassy to Jerusalem, a step ordered by Congress in 1995 but blocked by presidents since then.
"If he moves the embassy to Jerusalem, he will bury people like me," Erekat said. "He will bury Palestinians who don't want to use violence."
Abbas sent a letter to Trump on Monday saying the embassy move would be "devastating" to peace efforts, according to an e-mailed statement from his office. He sent similar messages to the Arab League, Russia, China and France, asking them to try to avert the embassy move.
If he wants to make progress toward peace, Trump should start with small steps, said David Makovsky, a Middle East scholar at the Washington Institute for Near East Policy and a former member of Kerry's negotiating team. Limiting Israeli construction in the West Bank to the major settlement blocs, for example, would restore a formula Palestinians accepted during the George W. Bush administration, he said.
If Trump "tries to reach for the stars he'll find it's unattainable," Makovsky said. "But if he can somehow maintain the viability of the two-state solution, that would be worthwhile."
BLOOMBERG