A gunman attacked Andrei Karlov, Russia's ambassador to Turkey, in the capital of Ankara on Monday.
Russian Foreign Ministry spokeswoman Maria Zakharova said in a statement he was hospitalized with a gunshot wound. She added that the ministry would soon comment on "the attack on the Russian ambassador in Turkey"
Private NTV news channel reports Turkish police fatally shot the gunman.
The ambassador was several minutes into a speech at an embassy-sponsored photo exhibition in the capital, Ankara, when a man wearing a suit and tie shouted "Allahu Akbar" and fired at least eight shots, according to an AP photographer in the audience. The attacker also said some words in Russian and smashed several of the photos hung for the exhibition.
Hurriyet newspaper reporter Hasim Kilic, who was at the exhibit, said the gunman also shouted "For Aleppo!" when he launched his assault.
Officials have not provided details of the attack yet.
Russia and Turkey recently negotiated a cease-fire in the Syrian civil war between rebels and the Assad regime fighting over the city of Aleppo. The cease-fire has led to the negotiated surrender of rebels that had held the city since nearly the beginning of the five-year-old conflict.
If the evacuation from Aleppo is completed later on Monday, it will close an important chapter in Syria's civil war, which Russia involved in largely due to its long-standing alliance with the ruling Assad clan, and Turkey is involved largely due to its long border with the country.

Earlier this year, there was a diplomatic crisis between the two nations after Turkey shot down a Russian jet Ankara said had violated their airspace during maneuvers over Syria.
Turkey has also struggled with a series of deadly terrorist attacks recently, from both Kurdish rebels and groups like the Islamic State of Iraq and Syria (ISIS.)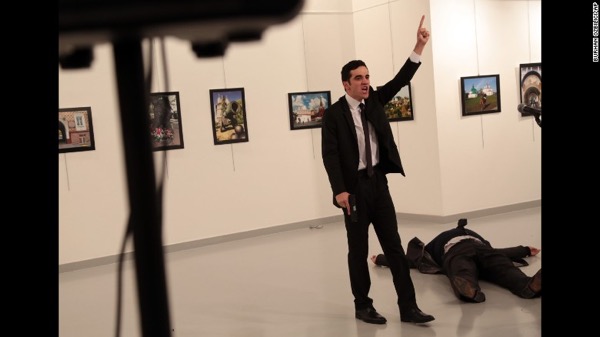 According to the Ministry of Foriegn Affairs, Karlov began his diplomatic career in 1976, and has previously served in South Korea. He became Russian Ambassador to Turkey in July of 2013.

UpDate:
The Russian ambassador to Turkey has died after being shot in the capital city of Ankara, the Russian foreign ministry has confirmed. Andrey Karlov was shot in the back as he made a speech at a photo exhibit in the Turkish capital. … The gunman also reportedly shouted: "We die in Aleppo, you die here."


CBS
This error message is only visible to WordPress admins
Error: No connected account.
Please go to the Instagram Feed settings page to connect an account.