Israel attacks Damascus military airport near Assad's palace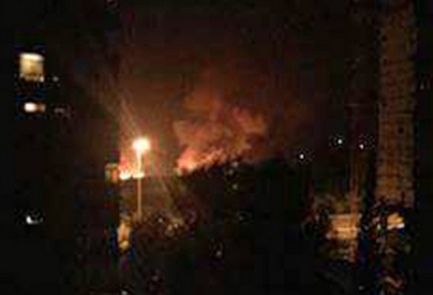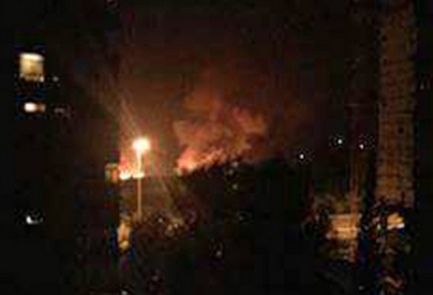 Israel's military attacked an airport in Damascus near Syrian President Bashar al-Assad's palace early on Wednesday morning, Arab media reported, in what appeared to be the second air strike by Israel inside Syrian territory in less than a week.
Arab-language websites in Lebanon and Syria reported what they said was an Israeli strike on the Mezzeh military airport in Damascus in the early hours of Wednesday. Social media channels recorded a series of explosions in the area of varying intensity, which then led to fires.
Al-Mayadeen, the pan-Arab television channel, reported that explosions and columns of fire erupted at about 4am at the airport on Wednesday, and blamed the Israeli military for the attack.
"It appears that a Zionist rocket attack struck military positions inside the airport, which caused massive and intermittent explosions for approximately half an hour while ambulances and fire trucks rushed to the scene," Al-Mayadeen reported. It said the attack was "almost certainly" a rocket strike originating from the airspace over neighbouring Lebanon.
Syria's ANA news agency, citing a military source, said the airport was attacked by surface-to-surface missiles fired from inside Israel at around 3am. It said the attack caused fires but no casualties.
Israel's military did not comment on the reported attack, in keeping with a policy of not claiming responsibility for the air strikes it carries out in the region. Israeli media reported widely on it on Wednesday, saying that foreign media sources had attributed the attack to Israel.
Israel has declared itself neutral in Syria's civil war, but its military has struck repeatedly inside the country to prevent the transfer of what it calls game-changing weapons to the Lebanon-based Shia militia group, Hizbollah, which is fighting alongside the Assad government in the war, with the support of Russia.
Later on Wednesday Avigdor Lieberman, Israel's defence minister, made an oblique reference to the attack. "We are first and foremost making efforts to maintain the security of our citizens and protect our sovereignty, and trying to protect the smuggling of sophisticated weapons, military equipment and weapons of mass destruction from Syria to Hizbollah," Mr Lieberman said at a meeting of EU diplomats in Israel.
On Tuesday evening, the Israel Defence Forces' official Twitter account posted a mapof what it said was "Hizbollah's military infrastructure in Lebanon", which it described as a "war crime".
Last week, Arab media reported that Israeli jets attacked what they said was a convoy of arms intended for Hizbollah near Damascus. Separately, in late November Israeli jets bombed a truck carrying four militants affiliated with the so-called Islamic State in the partially Israeli-occupied Syrian Golan region after the militant Islamist group targeted Israeli soldiers operating in the area.
In Israel, analysts said it was unclear whether Wednesday's purported Israeli air strike was carried out with the acquiescence of Russia, or without its knowledge.
After Russia's entry into the war with Syria last year, the Israeli and Russian militaries agreed a mechanism by which Israel could coordinate its sorties in Syrian airspace with Russia and avoid clashes. At the time, Russia's president, Vladimir Putin, assured Israeli prime minister Benjamin Netanyahu that Israel's interests would be kept in mind. However, the agreement is delicate for Israel, given that Moscow is allied with both the Syrian government and Hizbollah in the war.
Russia's military deployed anS-400 anti-aircraft missile system to the Syrian port of Latakia following the shooting down of a jet by Turkey last year. In October, Moscow said it had deployed its older S-300s in Tartus.
The system's ability to attack aircraft over a range of several hundreds of kilometres was seen by defence analysts as compromising Israel's ability to strike within Syria at will.
However, Yiftah Shapir, head of the Middle East military balance programme at the Institute for National Security Studies in Tel Aviv, said: "People tend to look at S-300s as omnipotent, and they are not." He added: "Even a weapons system with a 400-mile range can't see over the horizon."
FINANCIAL TIMES