Russian air strikes killed at least 70 people in idlib, Syria including women and children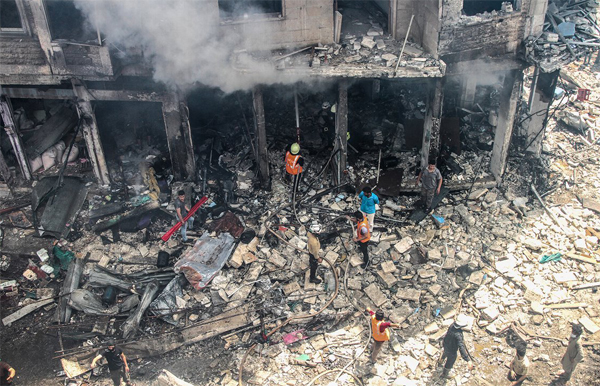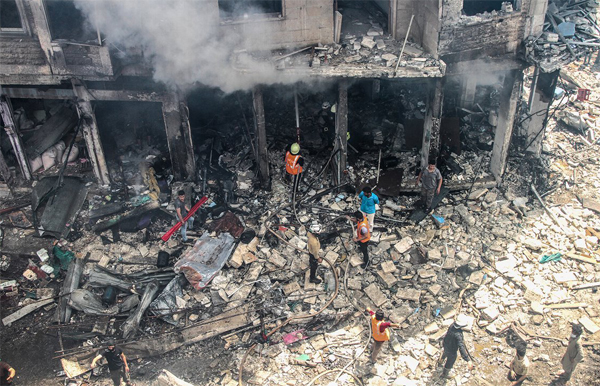 Suspected Russian air strikes killed at least 70  people in opposition-held parts of Syria on Sunday including women and children , Sky News reported  as government forces advanced in fierce clashes with rebels in east Aleppo.
Syria's government is waging an offensive to recapture all of  Aleppo, and it has so far captured more than 60 percent of the eastern districts that fell to rebels in 2012.
In Idlib province, in northwest Syria, at least 26 civilians were killed in suspected Russian strikes on the town of Kafr Nabel, the Britain-based Syrian Observatory for Human Rights monitor said.
An eyewitness told AFP that warplanes hit several places in the town, including a local market.
The Observatory says it determines whose planes carries out raids according to their type, location, flight patterns and the munitions involved.
The group said 18 people were also killed in suspected Russian strikes on the town of Maaret al-Numan, where an AFP photographer saw rescue workers and residents trying to pull survivors from the rubble at a vegetable market.
The monitor reported two additional deaths, one in an earlier strike on Maaret al-Numan and another in Al-Naqir, also in Idlib.
And it said six civilians, four of them children, had been killed in a government barrel bomb attack on the town of Al-Tamanah in the south of Idlib.
– Army advances in Aleppo –
Russia is a staunch ally of President Bashar al-Assad's government and began a military intervention in support of Damascus in September 2015.
Moscow says it is targeting "terrorists" and has dismissed reports of civilian casualties in its strikes.
In Aleppo, government forces advanced against rebels in east Aleppo, taking two small neighbourhoods and pushing into a third, state media said.
The army and allied forces are nearly three weeks into an operation to recapture all of Syria's second city, divided between regime and rebel forces since 2012.
Tens of thousands of civilians have fled the offensive, which has made steady gains and threatens to deal Syria's opposition its worst defeat of the country's five-year civil war.
State television said Sunday evening that the army had captured the districts of Karm al-Tahan and Myessar and advanced into the Qadi Askar neighbourhood.
The operation has already seen some 60 percent of east Aleppo fall to the government, and rebels are increasingly under pressure in the remaining southeastern districts under their control.
State news agency SANA said the air force was dropping leaflets over rebel-held areas urging "militants to abandon their weapons and… allow civilians and the sick and wounded to leave."
Damascus says rebels are preventing civilians from leaving the east and attempting to use them as human shields.
But tens of thousands of residents have poured out of eastern neighbourhoods as the army has advanced, with some heading south to remaining rebel territory and others going to areas under government or Kurdish control.
– UN envoy urges talks –
At least 311 civilians, including 42 children, have been killed in east Aleppo since the government began its assault, according to the Observatory.
The east has been pounded with air strikes, barrel bombs and artillery fire since the operation began.
Rebel fire on west of Aleppo has killed 69 civilians, including 28 children, in the same period, the monitor says.
On Sunday, the bombardment of rebel districts was so fierce it shook buildings in the west as well as the east, AFP correspondents on both sides said.
The Observatory said at least three people were killed in the eastern neighbourhood of Fardos in government artillery fire, a woman and two children.
The latest assault has only added to the massive destruction in east Aleppo, which has seen some of the worst violence throughout the conflict that began in March 2011 with anti-government protests.
The army has encouraged residents to return to recently recaptured neighbourhoods, but many who have ventured across to see their old homes have found nothing but rubble.
"This is all we found, this photo of my niece. It is precious to us, and we found a copy of the Koran, so we brought that too," said Um Yayha, 55.
Despite international outcry over the conflict, successive bids to end Syria's war have failed.
UN envoy Staffan de Mistura on Saturday urged a return to negotiations, warning of a "creeping, ongoing guerilla (war) and no reconstruction" unless peace talks resumed.
YAHOO