Snowden: Petraeus disclosed 'far more highly classified' secrets 'than I ever did'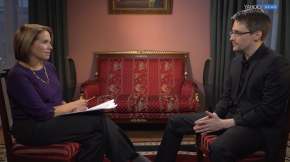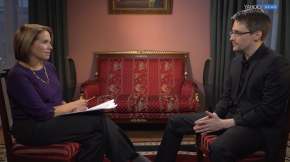 In an exclusive interview with Yahoo Global News Anchor Katie Couric, Edward Snowden says that former CIA Director Gen. David Petraeus — under consideration to be President-elect Donald Trump's secretary of state — disclosed "information that was far more highly classified than I ever did" and yet never "spent a single day in jail."
The fugitive former NSA contractor told Couric that Petraeus' case is evidence that "we have a two-tiered system of justice in the United States, where people who are either well connected to government or they have access to an incredible amount of resources get very light punishments."
Snowden's comments came in an exclusive interview with Couric in Moscow at a crucial moment for him. His lawyers in the United States, fearing that a Trump administration will take an unyielding hard line against him, are seeking either to get him a last-minute pardon from President Obama or to negotiate a plea bargain that would allow him to return to the country without spending a significant amount of time in federal prison for disclosing tens of thousands of classified government documents.
Asked by Couric what sort of plea bargain he might accept, Snowden, who is charged with multiple felonies for theft of government property and violations of the Espionage Act, argued that there were cases "where the government goes, 'This person was acting in good faith. They were trying to do right by the American people. But they did break the law.' No charges are ever brought, or they're brought very minimally."

Snowden did not cite any examples. But he immediately brought up Petraeus. "Perhaps the best-known case in recent history here is Gen. Petraeus — who shared information that was far more highly classified than I ever did with journalists," he said. "And he shared this information not with the public for their benefit, but with his biographer and lover for personal benefit — conversations that had information, detailed information, about military special-access programs, that's classified above top secret, conversations with the president and so on."
"When the government came after him, they charged him with a misdemeanor," Snowden continued. "He never spent a single day in jail, despite the type of classified information he exposed."
Snowden's remarks about Petraeus are likely to infuriate the retired four-star general's supporters in Congress and elsewhere. Petraeus did plead guilty to a misdemeanor charge in April 2015 for mishandling classified information, receiving two years' probation and a $100,000 fine. Court documents in the case show that he turned over a black book of highly classified "code word" documents — including the identity of covert officers and notes of National Security Council meetings — to Paula Broadwell, a biographer with whom he was having an affair.
But the "factual basis" for his plea also states that he retrieved the information from Broadwell three days later. Government officials have said that Broadwell, who was never charged, didn't use the information in her book about Petraeus and that none of the information he disclosed to her was ever made public. (Petraeus made that same point in an interview Sunday on ABC's "This Week." While acknowledging that he "made a false statement" to the FBI about his disclosure to Broadwell, he added that "the FBI in the agreement acknowledged that nothing that was in my journals that I shared — certainly improperly — ended up in the biography or made it out to the public. I think that's a fairly significant point.")
Snowden, by contrast, disclosed tens of thousands of highly classified NSA documents to multiple journalists, who published them and caused what U.S. intelligence officials have consistently said was harm to national security in part by making it more difficult for the NSA to intercept the communications of terrorist groups. The "damage done to our national security is profound," said California Rep. Adam Schiff, the ranking Democrat on the House Intelligence Committee, after the panel released a three page executive summary of a report on Snowden in September. Rep. Lynn Westmoreland, R-Ga., the chair of the panel's subcommittee on the NSA and cybersecurity, added: "His actions harmed our relationships around the world, endangered American soldiers in warzones, and reduced our allies' collective ability to prevent terrorist attacks."
Snowden, in his interview, also cited Director of National Intelligence James Clapper as an example of "two-tiered" justice. In testimony before the Senate Intelligence Committee in March 2013, Clapper denied to Sen. Ron Wyden, D-Ore., that the NSA was collecting information on U.S. citizens — a claim that was later disproved by the release of one of the classified documents that Snowden disclosed.
"When we had the most senior intelligence official in the United States, Gen. James Clapper, who lied to the American people and all of Congress on camera, under oath, in the Senate, in a famous exchange with Ron Wyden, he wasn't even charged," Snowden said. "But giving false testimony to Congress under oath, as he did, is a felony. It's typically punished by three to five years in prison."
YAHOO EXCLUSIVE