Army chief General Jean Kahwaji hails Aoun's election as Lebanon president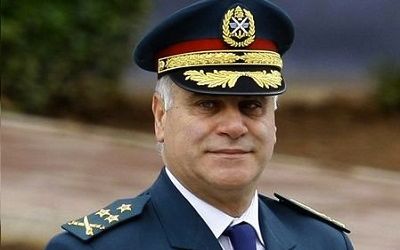 Army chief General Jean Kahwaji hailed on Monday the election of President Michel Aoun and said that it turns a new leaf for Lebanon that will help to found the basis for national unification that has long been sought.
Kahwaji's comments came during his Order of the Day on the Occasion of Independence Day, he was quoted as saying :
"The election of President General Michel Aoun has turned a new page and reshaped the broad lines of a political reality that has witnessed a lot of divisions and alignments. It heralds a promising era in the regularity of the state institutions and the integration of their roles, and to improve stability."
Aoun was elected president on October 31 ending a presidential vacuum that lasted for over two and a half years.
Relations between Aoun and Kahwaji  have been not been that great.
Earlier this year Aoun launched  a scathing attack against the Army Commander , accusing him of serving the interests of politicians instead of those of the nation.
He declared last August  after an extraordinary meeting of the Change and Reform bloc: "Kahwaji has politicized the army and we warn him against placing the military in confrontation with the people."
The meeting was held following the extension of the term of senior security officials  despite Aoun's objections.