Speaker Berri calls Lebanese banks "cheap" and "stingy" over their donations to the Army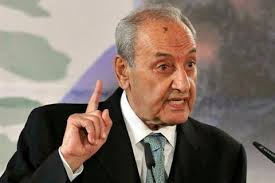 Lebanon Speaker Nabih Berri slammed the Lebanese banks as "cheap" and " stingy" over their donations the Lebanese army for buying weapons , al-Akhbar daily reported on Saturday.
"This is unacceptable. A single investor can alone donate ten million dollars. This is incomparable to the sacrifices and responsibilities that the army shoulders," furious Berri was quoted as telling his visitors.
The Speaker added: "If each bank pledged a donation of at least one million dollars the amount would have been over 30 millions dollars. Where are they hiding the money?"
"They are worth billions and are being stingy," concluded the Speaker.
Last February Saudi Arabia suspended the $3 billion grant for military supplies to the Lebanese army plus another $1 billion for supplies to the Lebanese security forces in response to the diplomatic stance by the Lebanese foreign ministry which was and continues to be headed by president Michel Aoun's son-in-law Foreign minister Gebran Bassil.
The 3 billion dollar grant for the armament of the Lebanese army with French weapons was suspended by the kingdom in protest against the Lebanese government reaction to the burning of the Saudi embassy in Tehran and another Saudi consult in Iran.
Aoun's first foreign trip will reportedly be to Saudi Arabia where he intends to push for the reactivation of the Saudi multi billion dollar grant to arm the Lebanese army, As Safir daily reported on Saturday.
Source