Hariri secures 86 out of 90 votes on 1st day of Premier consultations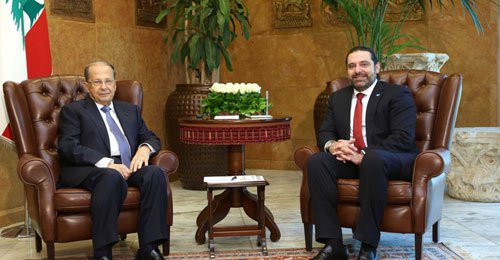 President Michel Aoun kicked off on Wednesday at the presidential palace in Baabda the consultations for designating a new premier.
Former PM Saad Hariri secured 86 votes out of 90 MPs that showed up for the consultations
Caretaker PM Tammam Salam was the first to arrive at the palace .
The main parliamentary blocs that named Hariri in the first round were the Future Movement , Change and Reform and Lebanese Forces.
In the second round of consultations, Hariri's nomination was endorsed by the blocs of the Phalange Party, the Marada Movement, MP Walid Jumblatt's Democratic Gathering and by MPs Michel Pharaon, Talal Arslan and Ahmed Karami.
"I nominated ex-PM Hariri for the premiership and called for facilitating the formation of the next cabinet in order to immunize unity," Pharaon said after the consultations.
Phalange Party chief MP Sami Gemayel meanwhile said the bloc nominated Hariri for the premiership "in light of the moderation he represents in a region that is witnessing extremism and bigotry."
Marada Movement chief MP Suleiman Franjieh who was the other key presidential candidate did not accompany his bloc to the consultations but the constitution does not stipulate the presence of all members of a certain bloc during consultations.
All the former premiers nominated Hariri including Tammam Salam, Najib Miqati and Fouad Siniora
Deputy Speaker Farid Makari and the MPs Butros Harb, Michel el-Murr and Nayla Tueini all nominated Hariri .
The only exception was the Baath Party and the Syrian Social National Party (SSNP) . The Baath reportedly abstained while SSNP did not publicly declare its position . Both blocs have 2 MPs each and both are allied with the Syrian regime
The consultations are expected to be completed on Thursday.
The consultations will continue on Thursday.
An Nahar reported that Speaker Nabih Berri will be the last one to name the candidate of his Amal Movement bloc as per his request.
Berri wanted to be the last to save on gas This way he won't have to visit the presidential palace three times — first as a Speaker, another as head of the Amal bloc and lastly to be briefed by Aoun on the outcome of consultations, according to the daily.
There are 128 members in the parliament but one has passed away . So 37 MPs are expected to show up Thursday to complete the consultations . Regardless how the remaining MPs will vote , Hariri has already secured the post.