Iran calls Aoun's election in Lebanon a victory for Hezbollah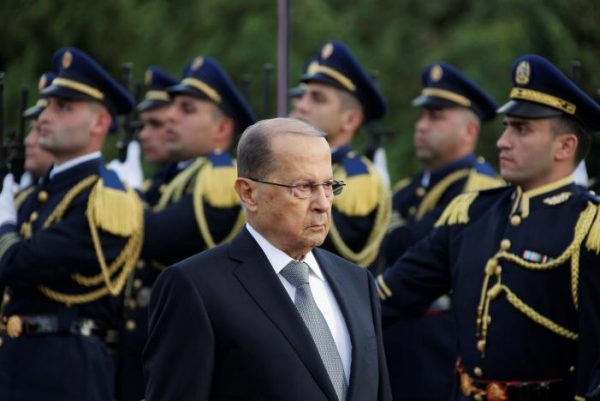 Iran welcomed the election of Michel Aoun as Lebanon's new president on Monday, calling it a victory for the Shiite group Hezbollah, Tehran's ally in Lebanon.
Aoun, a leader of Lebanon's Christian community, secured the post in a parliamentary vote, ending a 29-month presidential vacuum in a deal with Sunni leader Saad al-Hariri, who is now expected to become prime minister.
"The election of Michel Aoun as president shows new support for the Islamic resistance (against Israel)," Ali Akbar Velayati, Supreme Leader Ayatollah Ali Khamenei's top foreign policy adviser, was quoted as saying by Iran's Tasnim news agency.
"This is surely a victory for Sayyed Hassan Nasrallah, the leader of (Hezbollah and) Islamic Resistance in Lebanon."
Iran created Hezbollah in the early 1980s, when it fought Israeli forces that had invaded Lebanon.
Iran's President Hassan Rouhani congratulated Aoun, a former army commander, in a phone call, an official in Rouhani's office tweeted, calling it a victory for resistance and for ethnic tolerance in Lebanon.
Hezbollah leader Sayyed Hassan Nasrallah also called Aoun to congratulate him, the group's al-Manar TV station reported.
Regarding the impact of the election on the Syrian crisis, Khamenei's advisor said Aoun's election will affect the Syrian conflict because of what he called "the positive role of aid in support of the resistance front in Syria."
Velayati stressed that Lebanon is important in a series of what he called "resistance" that begin from Iran and include countries such as Syria, Iraq, Yemen and Palestine.
The top advisor did not mention support to any other Lebanese blocs and parties, including the Future Movement led by Saad al-Hariri, but stressed that support for Hezbollah and its insistence on the nomination of Aoun is what led to his election as President of Lebanon.
Aoun's election was hailed by the International community and several Lebanese leaders .
Lebanese Forces leader Samir Geagea , a Hezbollah rival and who was the first to declare his presidential bid but later nominated Aoun noted that his "cooperation" with the FPM founder will be "a main guarantee for the new presidential tenure."
"The oath of office was promising in terms of focusing on building the State, the army and the economy. As for foreign policy and after two and a half years of total chaos, the new president clarified Lebanon's commitment to the Arab League charter and the U.N. charter, putting Lebanon in the place it should be in terms of foreign policy," Geagea added.
Geagea hailed the oath of office of President Michel Aoun and called for the formation of a harmonious government.
Defending his support for Aoun's nomination, Geagea explained: "We thought that our endorsement of General Aoun would immediately lead to his election but this did not happen even after several months."
"When former PM (Saad) Hariri backed his nomination the March 8 forces had no excuse left for not electing him," he added.
"After the LF and al-Mustaqbal Movement backed General Aoun's nomination, it would have been a big scandal for Hezbollah not to support him and Hezbollah could not afford to lose its Christian cover," Geagea went on to say.
Turning to Aoun's presidential address, the LF leader said "the oath of office today was clear and sovereign par excellence and we must seek its implementation."
"Aoun's election is a step forward," he stressed calling his election "100% made in Lebanon"
In addition to pledges of economic growth and security, Aoun said in his oath of office that Lebanon must work to ensure Syrian refugees "can return quickly" to their country.
Aoun also pledged to endorse an "independent foreign policy" and to protect Lebanon from "the fires burning across the region."
With Reuters