Jumblatt endorses Aoun's presidential bid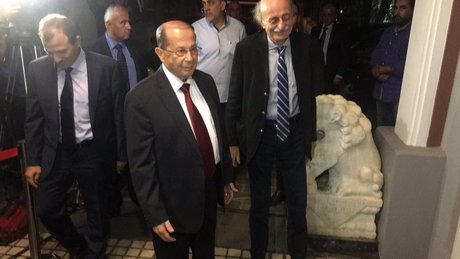 Free Patriotic Movement founder and leading presidential candidate MP Michel Aoun met Friday evening in Beirut with Progressive Socialist Party leader MP Walid Jumblatt at his residence in in Clemenceau Beirut.
Prior to meeting with Jumblatt he visited the Grand Serail to meet with Prime Minister Tammam Salam.
FPM chief Gebran Bassil accompanied Aoun to Jumblatt's residence .
Presidential candidate MP Henri Helou, a member of Jumblatt's Democratic Gathering bloc, attended the talks.
Aoun reportedly secured the support of the majority of of Jumblatt's parliamentary bloc for the upcoming election session.
"The majority of the [Democratic Gathering ] bloc agreed to support Aoun for the presidency," Jumblatt, the head of the bloc, told reporters following the meeting.
However, he said that the bloc will hold a final meeting on Saturday.
"Some might object but most of them [bloc members] are with his candidacy and election after 2-1/2-years of vacuum," Jumblatt said.
Jumblatt's backing guarantees Aoun's presidential election during the parliamentary session scheduled for Monday. Aoun has already gained the support of the Future Movement, the Lebanese Forces, Hezbollah and some of the March 8 allies.
Quoting well-informed sources, al-Joumhouria newspaper reported Friday that Jumblatt has told Bassil that eight member of his bloc out of eleven will vote in favor of Aoun.
Prior to his talks with Aoun, the PSP leader met with Speaker Nabih Berri, who strongly opposes Aoun's election .
"I explained to Berri my stance from Monday's session. If there are any differences, they are mild," Jumblatt said, describing Berri as a "statesman, who is keen to protect Lebanon's stability and institutions."
Jumblatt's endorsement means that he has dropped his support for Aoun's rival, Marada Movement leader MP Suleiman Fringieh and PSP member MP Henri Helou, whom Jumblatt nominated in April 2014 for the post..
A candidate needs a two-thirds majority, or 86 MPs, ( of the 128 member parliament ) to be elected president in the first round of voting. But in the second round, an absolute majority, or 65 MPs, is sufficient to declare a candidate a winner.