Franjieh meets Patriarch Rai . Vows to stay in the presidential race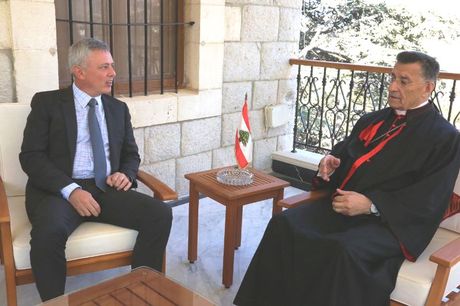 Marada Movement leader  MP Suleiman Franjieh held talks Wednesday  with Maronite Patriarch Beshara al-Rai and stressed that he will remain  the presidential race.
After a 45-minute closed-door meeting, Franjieh and al-Rai continued their talks over a lunch banquet, National News Agency reported .
"The atmosphere was excellent," Franjieh told reporters after the talks.
"The meeting with his Eminence is normal prior to the upcoming electoral session and we discussed the current developments in the country," Franjieh  added.
And in response to a question, the Marada chief emphasized that he will stay in the presidential race although the chances of his electoral rival MP Michel Aoun seem to be much better.
His meeting comes one day after Aoun met with  the Maronite Patriarch .
Lebanon has been without a president for more than two years, part of a political crisis that has resulted in a breakdown in many basic services and concerns about the country's stability.
Members of parliament will vote on a president on Oct 31 after former prime minister Saad al-Hariri said on Thursday he would back Aoun as president, part of a deal in which he is expected to again be appointed as prime minister.
Lebanon's dominant movement, Shiite Hezbollah, is allied to Aoun and its leader  Hassan Nasrallah said on Sunday his members of parliament would vote for him in the election.