U.N. chief is a potential candidate for South Korea's presidential election in Dec. 2017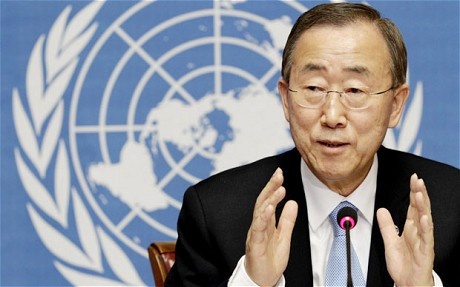 By Jean Yoon and Michelle Nichols
UNITED NATIONS- United Nations Secretary-General Ban Ki-moon said on Friday he will return to South Korea in January after heading the world body for a decade to consider what role he can play in the future of his country amid a push for him to run for president.
"I understand that there are naturally some expectations from many people in Korea that I should make myself available for a better future of Korea that I am conscious of," Ban, 72, who will step down at the end of 2016, told Reuters in an interview.
Ban said it was the first time he had spoken publicly about his future beyond the United Nations. The U.N. General Assembly last week appointed Ban's successor, former Portuguese prime minister Antonio Guterres, who will start on Jan. 1.
Ban is the only potential candidate for South Korea's presidential election in December 2017 with consistently more than 20 percent support in opinion polls. Ban, who served two five-year terms as U.N. chief, said he plans to return to South Korea in mid-January.
"Then after that I will have to discuss with some of my friends, my senior people who can give me good advice, what kind of role I can play for the future of Korea," he said during his first interview since the appointment of his successor.
If he runs, Ban is expected to join the conservative Saenuri Party of current President Park Geun-hye. He would join a small field of potential candidates who have struggled to gain much public support.
Ban said his "options are still open" and "let me just ponder seriously what will be the best way for me to use my time, my experience as secretary-general."
He said for now he was still focused on his job as U.N. secretary-general and it was "not the right time for me to speculate anything."
Throughout Ban's second term the war in Syria has worsened and prospects for peace anytime soon appear dim. More than 400,000 people have been killed and half the country's 22 million people have been uprooted over nearly six years.
"I deeply regret that the Syrian issue has not been resolved," Ban said. "I am ready to receive all this blame, criticism but sometimes you should know the secretary-general is blamed for what is beyond my own control."
NORTH KOREA 'GREAT CONCERN, WORRY'
A top issue for Ban, a former South Korean foreign minister, has been how to deal with increasing tensions on the Korean Peninsula following two nuclear tests and a string of ballistic missile launches by North Korea this year in violation of U.N. Security Council resolutions.
"Never in the past have we seen such heightened tensions on the Korean Peninsula, that is a source of my great concern and worry," Ban told Reuters during the interview in his 38th floor office at the United Nations in New York.
Since North Korea's fifth and largest nuclear test in September, the United States and China, a close ally of Pyongyang, have been negotiating a new draft Security Council resolution. In March, the 15-member council imposed tough new sanctions following its fourth nuclear test in January.
"Sometimes the Security Council has been taking unnecessarily long time in expressing their positions and that kind of sense of lack of unity gives some good excuse for the member states like North Korea not to abide by this resolution," Ban said.
Ban said he had met with senior North Korean authorities in New York and elsewhere, on the margins of international conferences, and advised them to address the issue "through a harmonious and reconciliatory way." He had made attempts to visit Pyongyang but they were canceled by North Korea.
Ban is generally well-regarded in South Korea, often called "the president of the world" in the media there and seen as a role model by students and parents. Stores carry a range of books on Ban's life and U.N. tenure, as well as self-help volumes on how to become a world figure and even how to speak like him.
Upon his return to South Korea, Ban said he planned to tell the people of South Korea about what he has achieved in the past decade, such as a U.N. agenda for the world's 2030 sustainable development and a global agreement to combat climate change, which comes into force next month.
"I'm determined to sprint to the finish line as secretary-general," Ban said. "It's important for me to finish my job as secretary-general until the very last moment of my mandate."
REUTERS EXCLUSIVE