Iraqi Advances Give Hope To Displaced Christians
BY FAY ABUELGASIM
IRBIL, Iraq (AP) — Raeda Paulos could hardly conceal her joy when the television inside her cramped trailer showed Iraqi forces raising the national flag over a church in her hometown, a day after it was freed from Islamic State rule.
"This is our church, this is where we used to pray!" she exclaimed as she watched the images at a camp for displaced Iraqis in Irbil, the Kurdish regional capital.
It was also where her husband, Adil Mateh, hid when the extremists swept into Bartella, a historically Christian town east of Mosul, in the summer of 2014. He had stayed to volunteer at the church, but by 2 a.m., when the power and water were cut, he decided it was too dangerous and fled into the night, eventually joining his wife and their four children.
"The church is the safest place. It is God's house. But Daesh isn't afraid of God," Mateh said, using an Arabic acronym for the group. "They aren't afraid of anything."
Paulos and her family are among hundreds of thousands of displaced Iraqis who are closely watching the offensive to retake Mosul, the country's second-largest city. Each battlefield advance brings hope that they can return home, but they also fear what they might find when they get there.
Iraqi special forces pushed into Bartella, nine miles (15 kilometers) from Mosul's outskirts, on Thursday, after fending off a wave of suicide truck attacks.
Homes along the town's main road were charred and riddled with bullet holes. Many were spray-painted with graffiti, including the first letter of a derogatory word in Arabic for Christians that the militants used to mark Christian property. Under the extremists' rule, Christians had to either convert to Islam or pay a special tax.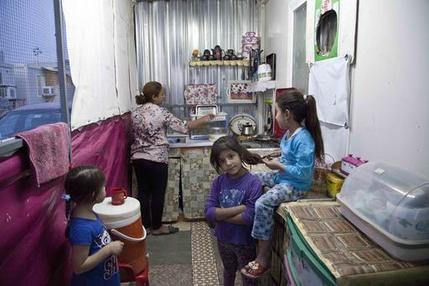 Inside the church, the walls were sprayed with slogans and the floors were littered with dirt and garbage. As Iraqi soldiers raised the national flag over the building, they rang the church bell to signal its liberation.
"Bartella was liberated yesterday, and today we are inside its church," Lt. Gen. Talib Shaghati declared. "I bring the good news to our Christian brothers that the church is liberated."
Intisar Mateh, her husband and their five children, aged 3 to 15 years old, fled the nearby town of Qaraqosh on a summer night in 2014, shortly after IS moved in.
They slept on the floor of a shopping mall in Irbil, before moving to a camp on the edge of the city, where 1,200 white trailers arranged in neat rows shelter some 5,000 people.
Mateh works as a maid, but says it's hard to make ends meet for her family and her mother-in-law, who is ill. The family of eight shares a two-room trailer.
They were also glued to the TV on Friday, watching as Iraqi forces fought their way across the Ninevah plains.
"Hopefully we can go back home, because we are not comfortable here," Mateh said. "We feel stuck here, and there is nothing like being home."
She's worried about the toll the war has taken on her children. She hears them warn each other not to touch anything on the side of the street, even empty plastic bags, for fear they could be roadside bombs.
It's a lesson that may serve them well if they return to their hometown.
IS has heavily mined areas around Mosul to slow the advancing Iraqi troops. The villages where most of the fighting has taken place are largely uninhabited, so the U.S.-led coalition has been able to use airstrikes and heavy artillery to help flush the militants out. But the fighting has destroyed houses, bridges and roads, which could take months or even years to rebuild.
For the Christians of Bartella, at least, the town's church is still standing, a foundation on which a community scattered by war may one day gather again.
"God willing, we can all go back home," Paulos said. "We have suffered enough."
Associated Press