Shiite Muslims celebrate Ashura with self flagellation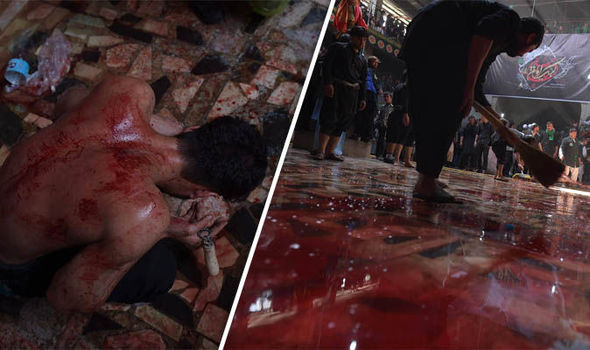 HORRIFYING images of Shiite Muslims whipping themselves with chains and blades in a new year ritual have emerged.
By KATIE MANSFIELD
The blood-soaked ceremony, which is part of the Ashura commemorations, sees hundreds take part in self-flagellation.
The shocking images show young men taking knives to their heads and bodies in brutal acts of self-harm.
The ritual marks the death of Imam Hussein, a grandson of the Prophet Mohammed, who was killed by armies of the Yazid near Karbala in 680 AD.
Volunteers are seen mopping the floor as the ground turns to a river of blood.
Men are seen bent over in agony as their backs bleed heavily.
Using chains and blades the Afghan Shiite Muslims celebrate the holy day at a mosque in Kabul.
Spectators are seen crying and covering their eyes as the bloodbath takes place.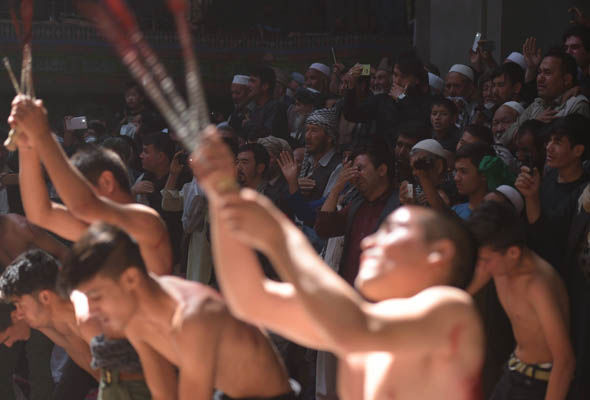 Others take photos on their phones as millions of Shiites around the world welcome in the Islamic New Year.
The New Year is a time to remember the emigration of Muhammad from Mecca to Medina, which was known as the Hijra.
While some Shiite Muslims take part in the bloody ritual, others refuse to take part.
Sunni Muslims treat Ashura as a day of respect and thankfulness for the prophet .
Afghanistan, Iran, Iraq, Lebanon, Bahrain and Pakistan mark the day of Ashura as a public holiday.
The religious festival includes a ten-day mourning period, with many making the pilgrimage to Mashhad al-Husyn in Iraq.
The annual ceremony is often targeted by Islamic extremists.
Security officials in Baghdad said three people were killed including Shiites worshipers and others were wounded in a suicide attack that targeted a Shiite Muslims Ashura mourning procession in the Iraqi city.
Last year a series of blasts targeted Shiite Muslims in Dhaka killing at least one person and wounding dozens in a procession in the old part of the Bangladesh capital to mark the holy day.
Express.co.uk