Citi ups chances of Clinton victory to 70 percent as Trump stumbles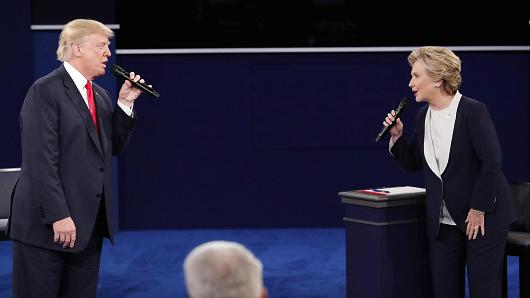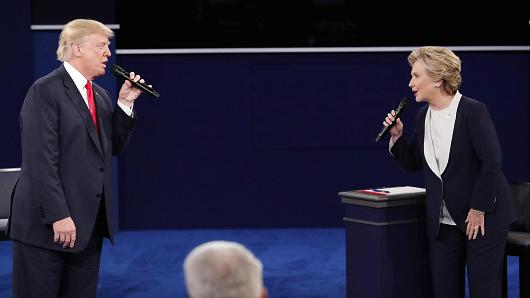 With less than four weeks to go before voters head to the polls, analysts at Citi have upped their chances of a Hillary Clinton victory in the increasingly unpredictable fight for the White House.
In raising their odds on a Clinton win from 60 percent to 70 percent, Citi's global researchers pointed to "continued momentum for Clinton in the polls, and (Donald) Trump's difficulty in overcoming challenges and broadening his appeal behind his stalwart supporters."
This reverses the trend from a mid-September note published by the same political analysts, in which Donald Trump's chances jumped from 35 percent to 40 percent due to what Tina Fordham and her team described as an"enthusiasm gap" for Clinton.
According to Citi, referencing data from political data source FiveThirtyEight, prediction markets now rate the chance of a Clinton victory at 80 percent and a Trump victory at 18 percent. This reflects an 18 percent bump for the Democratic candidate since the first debate on September 26 and a 17 percent slide for her Republican opponent.
Meantime, the same sources indicate polls-based forecasts put the chance of a Clinton win at 82.5 percent (a 27.7 percent jump since thefirst debate) against 18.4 percent for Trump.
However, the analysts warned, "we continue to be cautious due to concerns about polls capturing marginalized voters and the high potential for Black Swan events."
Last weekend's flurry of headline-grabbing events, including a 2005 recording of Trump making comments widely interpreted as inappropriate and derogatory towards women as well as a WikiLeaks release of Clinton telling banks during paid speeches she has "both a public and private position" on Wall Street reform, are not yet reflected in the latest polls.
Nor is Monday night's second presidential debate which general consensus determined to reflect yet another a lowpoint for U.S.politicsbut closely tied in terms of who made a better showing, Trump perhaps having the slight edge.
Failure of both to command broad appeal continues as a distinguishing factor in a race characterized by among the highest ever negative personal ratings for candidates in a presidential battle. Despite this, Clinton's score has recently managed a slight improvement.
Turning to the all-important swing states, Citi analysts described momentum on this front as "also moving in her favor" with Clinton currently ahead in 11 states as compared to Trump's lead in four.
As we move into the last month of campaigning, the Citi analysts cite key factors to keep an eye on,including the third presidential debate scheduled for October 19.
They also highlight "polling on national and state level as well as favorability numbers. The level of support for third party candidates has recently been on the decline, boosting Clinton's chances of winning. This trend as well as the number of undecided voters are important to watch for."
According to Citi, any further senior defections from the Trump camp or critical statements from members of the Republican Party could also be "important signposts" about the direction of the race.
The analysts pour cold water on the suggestion Trump's recent series of mis-steps may prompt his exit from the race ahead of the election, saying it is, "extremely unlikely Donald Trump will withdraw" and that there is "no mechanism to force him to do so."
CNBC