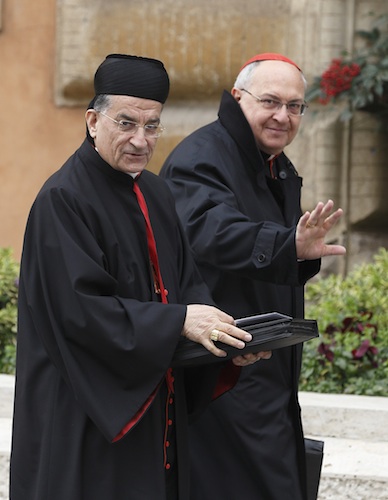 The Vatican held the Lebanese of  all different religions and political affiliations responsible for the delay in electing a new president , al-Joumhouria daily reported on Saturday.
The Prefect of the Congregation for Eastern Churches, Cardinal Leonardo Sandri who arrived in Beirut on Friday, held a meeting with Patriarch Beshara al-Rai in Bkirki following which he stressed support to the efforts of the Patriarch with regard to the  presidency.
However, the Cardinal stressed the insistence of the Pope to elect the "only Christian president in the Levant soon," as he held "all the Lebanese of different religions and political affiliations responsible for the delay."
During the meeting between Sandri and Rai, the latter briefed the Cardinal on the latest developments with regard to the presidential file, including the efforts exerted by former PM Saad Hariri in that regard.
Sandri arrived in Beirut to participate in the ordination of Father Cesar Essayan as bishop.
The Lebanese parliament failed again on September 28th and for the 45th time in a row to elect a president to replace Michel Suleiman whose term ended on May 25 , 2014.
As in the past sessions the parliament was unable to reach a quorum because the Iranian-backed Hezbollah militant group and its ally MP Michel Aoun's Change and Reform bloc MPs boycotted the session, because they could not reportedly guarantee Aoun's election as a president.
Amal Movement leader, Speaker Berri a key ally of Hezbollah postponed the election to October 31st.
Aoun and Marada Movement leader MP Suleiman Frangieh are the 2 main candidates for president and both are key members of the Hezbollah-led March 8 alliance.
Aoun is backed by Hezbollah and the Lebanese Forces, while Frangieh is mainly supported by the Future Movement, the Amal Movement and the Progressive Socialist Party.
Both Hezbollah and the LF have reportedly attempted to convince Hariri to relinquish support for Frangieh and instead endorse Aoun, which they say is the only way to end the presidential vacancy.
Since his arrival to Beirut , Hariri has kicked off a series of consultations with top leaders in a bid to end the presidential vacuum, but has not declared any change in his choice for candidate so far. There is a lot of speculation that he has decided to endorse Aoun, but is facing a lot of objection from his Future Movement MPs .