Pence contradicts Trump on Russia/Syria. Calls for strikes against Assad's forces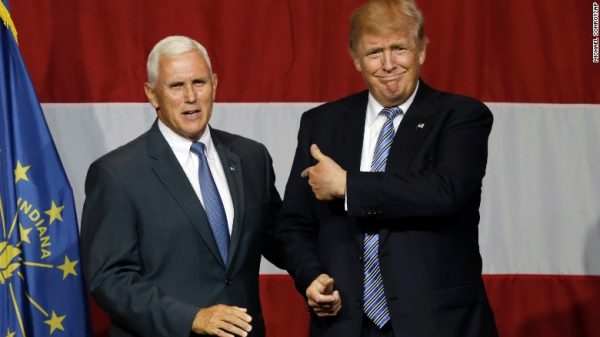 Republican vice presidential nominee Mike Pence has ventured beyond Donald Trump's ambiguous posture toward war-torn Syria.
The Indiana governor said during a debate with Democratic vice presidential nominee Tim Kaine that the U.S. military should be ready to strike Syrian military targets under the command of President Bashar Assad, whom the U.S. blames for a war that has killed hundreds of thousands of civilians. The threat of military action against the Russia-backed Assad regime marks a departure from what Trump has proposed for the country's escalating humanitarian crisis.
Trump has advocated a hands-off approach to dealing with Assad. He has rarely addressed the crisis beyond calling for the creation of so-called safe zones for Syrian civilians to keep them out of harm's way and keep refugees he claims pose a serious security risk out of Europe and the United States.
"What I like is, build a safe zone," Trump said almost a year ago, so "you don't destroy all of Europe."
The space between the candidates underscores Pence's challenge as he attempts to champion an unusually vague presidential candidate who shows little interest in the intricacies of world affairs. The differences also raise questions of whether other policy gaps between the two Republicans would exist in a Trump administration facing the tangle of adversaries and allies at the heart of the Syrian conflict. While Pence espouses traditional conservative viewpoints, Trump has advocated an isolationist-tinged "American first" approach that is harder to classify.
Notably, the light between the two men on Syria exposes Pence's superior fluency on such issues as a former 10-year member of the House Foreign Affairs Committee.
The awkwardness surfaced during the only vice presidential debate Monday when Pence was asked whether the U.S. has a responsibility to protect civilians caught in the bloody Syrian conflict. Where Trump has suggested safe zones for refugees, Pence offered details and nuance — and he addressed the prospect of a confrontation with Russia.
The U.S., Pence suggested, should protect the Syrian city of Aleppo, where aid agencies warn that a humanitarian disaster looms with the collapse of a short-lived cease-fire and stalled peace talks.
"I just have to tell you that the provocations by Russia need to be met with American strength," he said. "And if Russia chooses to be involved and continue, I should say, to be involved in this barbaric attack on civilians in Aleppo, the United States of America should be prepared to use military force to strike military targets of the Assad regime to prevent them from this humanitarian crisis that is taking place in Aleppo."
That's a very different approach from Trump, who has said repeatedly, and as recently as May, that he opposed military intervention in the civil war in Syria, and instead wants to target Islamic State militants.
"I would have stayed out of Syria," Trump told MSNBC, arguing that the U.S. "has bigger problems than Assad."
Trump has argued that it makes no sense for the U.S. to be fighting both Islamic State militants as well as Assad, when Syria and IS are also at war.
A broader intervention in Syria, beyond counterterrorist strikes, would be complicated. U.S. and European nations hold Assad's government responsible for far more deaths than IS. There are also several al-Qaida splinter groups operating in Syria and they have various alliances with U.S.-backed rebels. Beyond Russia, Assad is receiving help from Iran and Hezbollah militants.
Trump has also advocated working more closely with Russia to take on the Islamic State group.
Pence, who consistently took a much tougher tone toward Russia than Trump during the debate, sought to minimize the differences in interviews Thursday.
"There's absolute agreement (that) we have to establish safe zones for people to be able to get out of harm's way in Aleppo," he said.
"And if you don't back that up with military resources and our allies in the region, then you really can't guarantee that," Pence said later Thursday during an MSNBC interview. "Whether that's … a no-fly zone or whether you go beyond that with military force, I think that would have to be a real-time decision made by our commander in chief."
President Barack Obama and then-Secretary of State Hillary Clinton, now the Democratic presidential nominee, urged Assad to step aside early in the uprising in 2011. But the administration put little effort into influencing Assad and has pivoted more toward striking Islamic State targets in Iraq and Syria.
Trump has said he supports military action against IS, already being conducted by the Obama administration.
The clarification was just one of several Pence has been forced to offer in recent days as he seeks to defend a candidate who can come across as imprecise, and has taking numerous, sometimes contradictory positions on a number of issues over the course of the campaign.
Pence also insisted Thursday that Trump no longer calls for a "total and complete" ban on foreign Muslims entering the United States, as Trump had proposed last year.
"It's not Donald Trump's position now," Pence told CNN, insisting that Trump has made clear "we're going to suspend immigration from countries compromised by terrorism."
Trump has yet to personally disavow his original all-Muslim ban and his campaign website still features the proposal.
FOX NEWS