Former Hezbollah leader slams group as US-Russia 'pawns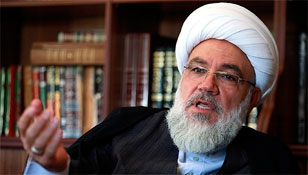 Subhi al-Tufayli, the former leader of the Iran-backed Lebanese Shiite militia Hezbollah has slammed the group for its aggression in Syria.
Hezbollah joined the war in 2012 in support of Syrian President Bashar al-Assad, and has been a key player in keeping the president in power.
In a video that surfaced on the internet early this week, Tufayli called on Hezbollah fighters in Aleppo to stop their involvement in the war.
"If there is anyone honorable among you [Hezbollah], then repent and reconsider," he said, "Do not be pawns serving the US and Russia."
Tufayli, who was the leader of Hezbollah from 1989 until 1991, accused the US and Russia of conspiring against the children of Muslims.
"Aleppo today is being destroyed like Berlin. Warplanes never leave its skies, its children are bombed night and day," Tufayli said.
The besieged east of Aleppo has come under intense aerial bombardment since a cessation of hostilities brokered by the US and Moscow collapsed last month.
Russia launched its military operation in Syria last September to back up long-time ally Bashar al-Assad to Western ire, helping to shore up the regime's embattled forces. Whereas the US and allies back the anti-regime Syrian Rebels.
"Whoever allies with these people, American or Russian, I swear to God, he is an enemy," Tufayli said.
Al Arabiya